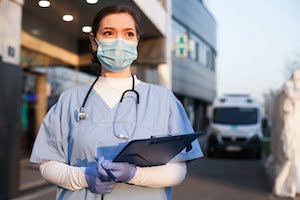 While COVID-19 continues to dominate the headlines, life, however altered, does go on. First aid emergencies do not cease in the face of a pandemic and knowing how to respond to a medical emergency can mean the difference between life and death.
With constantly evolving social distancing guidelines, it is natural to feel confused about what you can and cannot do in terms of emergency response. This article looks at first aid considerations during the coronavirus pandemic and the measures you and your employees can take to best protect yourselves while providing medical aid to others.
---

First Aid Needs Assessment
.
No one can tell you what provision you should make for first aid. You, as an employer, are best placed to understand the exact nature of your workplace and decide what you need to provide. At a minimum, first aid provision must be 'adequate and appropriate in the circumstances'. This means that you must provide sufficient first aid equipment (first aid kit), facilities and personnel at all times.
A first aid needs assessment helps businesses decide the level of first aid provision required. This assessment considers the circumstances of your workplace, workforce and the hazards and risks that may be present.
As an employer, a core element of reviewing your risk assessment to include working during the pandemic should also involve refreshing your first aid needs assessment. Talk to the person responsible for first aid arrangements, and your first aiders if you have any (in small, low-risk workplaces there is no specific requirement to provide formal training). Get feedback on any factors that should be taken into account within your needs assessment, for example supporting vulnerable workers.
While an understanding of measures to take to protect themselves and others is essential for first aiders, it is appropriate that all staff are kept informed as any one of us at any time could find ourselves faced with a medical emergency.
---

Working from Home
.
With lockdown restrictions increasing again across the nation, many workers continue to, or have returned to, work from their home.
Employers still have a responsibility for employee wellbeing when the workplace is the home space and you should ensure that your staff are knowledgeable about basic first aid should it be required when working from home.
Find out more about our Working from Home course.
---

First Aid and Social Distancing
.
When providing first aid assistance, responders should try to assist at a safe distance from the casualty as much as possible and minimise the time sharing a breathing zone. It may be that the casualty can be told to do things themselves, enabling casualty and first aider to maintain social distancing.
However, in medical emergencies treating the casualty properly should be the primary concern. While there may be risk of cross infection, any immediate threat to life should take priority.
The aims of any first aider are known as the 3 Ps:
2. Prevent the situation worsening
---

CPR and COVID-19
.
Whenever CPR is carried out, particularly on an unknown victim, there is some risk of cross infection, particularly when giving rescue breaths. Normally, this risk is very small and a risk worth taking when set against the inevitability that a person in cardiac arrest will die if no assistance is given. Within the context of COVID-19, there are additional measures that a first aid responder can take to minimise possible cross infection.
In accordance with the Resuscitation Council UK Statement on COVID-19 in relation to CPR and resuscitation, in the case of possible cardiac arrest, a first aider should:
Call 999 immediately.

If COVID 19 is suspected, they should tell the call handler.
Shout for help. If a portable defibrillator is available, they should ask for it.
Recognise cardiac arrest by looking for the absence of signs of life and the absence of normal breathing. Responders should avoid listening or feeling for breathing by placing their ear and cheek close to the patient's mouth. If there is any doubt about confirming cardiac arrest, chest compressions should be started until help arrives.
If there is a perceived risk of infection, to minimise transmission risk, a cloth or towel should be placed over the victim's mouth and nose and compression only CPR and early defibrillation attempted until the ambulance arrives.
If there is access to any form of personal protective equipment (PPE) this should be worn. For example:
a fluid-repellent surgical mask

disposable gloves

eye protection

apron or other suitable covering
---

Paediatric CPR Advice
.
As paediatric cardiac arrest is unlikely to be caused by a cardiac problem and is more likely to be a respiratory one, rescue breathes can be crucial to the child's chances of survival.
The most important thing is to act quickly. In the case of child or infant cardiac arrest, responders should:
Call an ambulance and taking immediate action.
Begin CPR, preferably with both chest compressions and rescue breaths (although compressions-only CPR is better than no action at all).
Doing rescue breaths will increase the risk of transmitting the COVID-19 virus, either to the rescuer or the child/infant. However, this risk is small compared to the risk of taking no action as this will result in certain cardiac arrest and the death of the child.
Find out more about our online Paediatric First Aid course.  
---

All other injuries or illnesses
.
If a serious illness or injury is suspected, first aide responders should call 999 immediately and tell the call handler if the patient has any COVID-19 symptoms.
If giving first aid treatment is provided, responders should use the recommended PPE identified previously if available.
Any time spent sharing a breathing zone with the casualty should be minimised. The casualty should be directed to do things themselves where possible.
---

Mental Health First Aid
.
As part of your first aid needs assessment, you might have identified the benefit of having a mental health first aider – someone trained to identify and understand symptoms and able to support a colleague who may be experiencing poor mental health.
If you have never considered mental health as part of your first aid needs assessment previously, it may be appropriate to do so now, given the impact the pandemic is having on many people's mental health. If you have staff working from home, for example, they may be experiencing feelings of disconnection or isolation because of reduced contact with others. 
This can be a particular problem if staff live alone. Staying in regular contact with home workers is important, not only in terms of managing work, but also to check on colleagues' health and wellbeing. 
 Find out more about our Mental Wellbeing at Work course.
---

First Aid Cover during the Pandemic
.
It may be that first aid cover in your business is reduced because of current circumstances however, it is important that you continue to do all that is 'reasonably practicable' to comply with the law.
Reviewing your first aid needs assessment will enable you to decide if you can still provide the cover needed for the workers and the activities that they are doing. For example, if fewer people are coming into the workplace it may still be safe to operate with reduced first aid cover. It may be necessary to stop higher-risk activities.
Depending on your situation, it might be possible to share the first aiders of another business, but you must be certain they have the knowledge, experience and availability to cover the first aid needs unique to your business. Shared first aiders must be aware of and confident in the appropriate response to the type of injuries or illnesses that you identify in your first aid needs assessment.
They should know enough about your work environment and its first aid facilities and, importantly, be able to get to the workplace in good time if needed. Of course, whoever provides temporary shared cover must make sure they do not adversely affect their own first aid cover.
---
First aid certificate extensions
.
Employers must keep up to date on current guidance regarding any first aid certificate extensions. For example, from 31 October 2020 the temporary COVID-19 extension arrangements for offshore medic (OM), or offshore first aid (OFA) certificates ended and these certificates must now be current and in date.
Any First Aid at Work (FAW) and Emergency First Aid at Work (EFAW) certificates that expired after 16 March 2020 can remain valid until 31 October 2020 or 6 months from date of expiry, whichever is later.
All requalification training for these certificates should be completed by 31 March 2021. Employers must be able to evidence they meet certain requirements in order to qualify for the extension and are advised to consult the Health and Safety Executive (HSE) website for information.
---

Annual refresher training
.
Where first aiders are unable to access annual first aid refresher training face to face during the coronavirus pandemic, HSE supports the use of online refresher training to keep their skills up to date.
However, in order for student competency to be properly assessed, HSE still strongly recommends that the practical elements of FAW, EFAW and requalification courses are delivered face to face.
Whether this is achievable remains dependent on current local and national restrictions and employers should remain up to date with evolving extensions, exemptions and expectations.
Through the winter months of 20/21 face to face first aid training appears increasingly unlikely.  Here is more information on selecting the right first aid course.
---

First Aid Training Online
.
Online training, such as our First Aid at Work course, offers a socially distanced and accessible solution to ensuring your employees have the knowledge and skills required to successfully respond to a medical emergency at work – whether that is in the work place or the home space.
Speak to us today about how we can support you in meeting your first aid at work needs during these challenging times.
---