Description
CPR and AED course Outcomes
In the UK there are over 30,000 cardiac arrests a year outside of hospital. Less than 10% of those victims survive to be discharged from hospital (British Heart Foundation).  In comparison, Norway has a survival rate around 25%.  Effective CPR can double the chances of survival from out of hospital cardiac arrest. 
This CPR and AED course is designed to effectively train candidates about both CPR and the use of Automatic External Defibrillators (AEDs).   AEDs are also referred to as Public Access Defibrillators or PADs. This course will teach candidates how to recognise and respond to a severe life-threatening emergency until the Emergency Services personnel arrive, whether it be administering CPR or using a defibrillator.  
Incidents requiring CPR can happen anywhere and at any time. The first response to such an incident is the most important. CPR, given at the scene, can improve the chances of survival and recovery of a victim.  It is vital anyone who witnesses a cardiac arrest has the skills, ability and confidence to step in and help.  This CPR course will help support the development of those skills and with the aim of giving you the confidence you are making the correct choices at this critical time..  
---
Target Audience
Mandatory:           Nominated first aider(s) within your business
Recommended:   This course will be of benefit for any employee, particularly those who frequently interact with the general public
---
Content:
Introduction
What is CPR?
What is defibrillation?
Demonstrating CPR
Cardiac Arrest
Sudden Cardiac Arrest (SCA)
Chain of survival
How to help someone who has collapsed
CPR
The heart
Different techniques for resuscitation
Will the casualty wake up?
AEDs (Automated External Defibrillator)
Knowing the AED
Workplace
What does AED do?
Shock
---
Benefits of echo3education online CPR and AED course
Accelerated Learning – 35 minutes 
Unlimited 12 months access
Complies with UK HSE legislation
Rich Media & engaging content
Instant digital certificate on successful completion
Complementary training record back-up from echo
---
Certification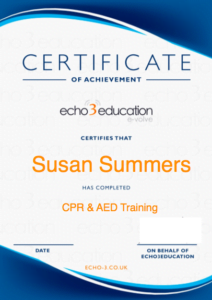 On successful completion of this ROSPA approved CPR and AED training candidates receive a completion certificate, available as a PDF for immediate download.  This requires achievement of the required pass mark during the final assessment.  
---
Benefits of echo3education CPR and AED training
12 months unlimited access to content
Accelerated learning – 35 minutes
Complies with UK legislation
Rich media and engaging content
Instant digital certificate on successful completion
Complementary training record back-up from echo3
---
Further information (external)
British Heart Foundation: https://www.bhf.org.uk/
Out of Hospital Cardiac Arrest – A Strategy for Scotland: http://www.gov.scot/Resource/0047/00474154.pdf
---
Accident Investigation  |  Accident Reporting  |  First Aid at Work  |  Risk Assessments & Method Statements  |  Safety, Health & Environment