Description
CPR and AED Awareness Training Online | In the UK there are over 30,000 cardiac arrests a year outside of hospital. Less than 10% of those victims survive (British Heart Foundation).  In comparison, Norway has a survival rate around 25%.  Effective CPR can more than double the chances of survival from out of hospital cardiac arrest. 
---
CPR and AED Awareness Course Objective
CPR (cardiopulmonary resuscitation) is a lifesaving medical procedure given to someone who is in cardiac arrest, meaning their heart has stopped beating. Incidents requiring CPR can happen anywhere and at any time. The first response to such an incident is the most important. CPR, given at the scene, can improve the chances of survival and recovery of a victim. Quick use of an AED (automated external defibrillator) can restart the heart and minimise the risk of brain injury and/or death. It is vital anyone who witnesses a cardiac arrest has the skills, ability and confidence to step in and help.  This CPR and AED Awareness course will help support the development of those skills, with the aim of building the confidence to make the correct choices at this critical time.
This CPR and AED course is designed to effectively train candidates about both  (CPR) and the use of  (AEDs).   AEDs are also referred to as public access defibrillators or PADs. This course will teach candidates how to recognise and respond to a severe life-threatening emergency through the administration of  CPR and use of an AED until the Emergency Services personnel arrive. 
---
Learning Outcomes
On completion of this course you will know how to:
| Recognise a severe life-threatening emergency
| Respond to a severe life-threatening emergency
| Administer CPR
| Use an AED
---
Course content
Section 1 | Introduction
What is CPR?
What is defibrillation?
Demonstrating CPR
Section 2 | Cardiac Arrest
Sudden Cardiac Arrest (SCA)
Chain of survival
How to help someone who has collapsed
Section 3 | CPR
The heart
Different techniques for resuscitation
Will the casualty wake up?
Section 4 | AEDs (Automated External Defibrillator)
Knowing the AED
Workplace
What does AED do?
Shock
---
Why take the CPR and AED Awareness online course?
After someone experiences sudden cardiac arrest (SCA), brain death starts to happen within just 4 to 6 minutes if no CPR and defibrillation occur, so fast response is vital. While CPR can keep blood pumping to the brain, an AED is needed to restart the heart and is designed to be used by anyone, even without training.
If you suspect SCA, the chain of survival is:
Call the emergency services immediately
While you wait for paramedics, give CPR
Use a defibrillator (AED) to restart the heart
Remember, every second counts. AEDs, when used within the first 3-5 minutes of a person suffering a cardiac arrest, can increase the chance of survival from less than 5% to as much as 70%. Public access and workplace AEDs are becoming common. The conditions for defibrillation are optimal for only a very few minutes but this period can be extended if a bystander provides effective CPR. 
In countries where CPR training is universal, the chance of survival is almost three times the rate in the UK. The British Heart Foundation (BHF) say that this is, in part, due to more members of the public trained in CPR. The BHF's Nation of Lifesavers campaign hopes to see CPR-trained lifesavers on every street and in every workplace.
---
Ideal For
Nominated first aider(s) within your business.
This course will also be of benefit for any employee, particularly those who frequently interact with the general public.
---
Benefits of echo3education online CPR and AED course
Accelerated Learning – 35 minutes 
Unlimited 12 months access
Complies with UK HSE legislation
Rich Media & engaging content
Instant digital certificate on successful completion
Complementary training record back-up from echo
---
Certification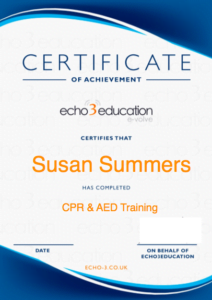 On successful completion of this ROSPA approved CPR and AED training candidates receive a completion certificate, available as a PDF for immediate download.  This requires achievement of the required pass mark during the final assessment.  
---
Certification
Successful completion of the CPR and AED Awareness online training requires delegates to achieve 80% or more in the final short assessment. At this point they receive:
| An emailed PDF self-print certificate from echo3education with verifiable completion code
| A Digital Badge that can be can be shared on social media sites such as Linkedin.
---
What is included in this echo3education CPR and AED Awareness training course?
| 35 minutes of mixed media learning
| Complies with UK legislation
| Digital Badge – Share your success on Linkedin
| Instant self-print certificate (£5 for posted version)
| Unlimited access for 1  year
| Complementary training record back-up from echo3education
---
Further information 
British Heart Foundation: https://www.bhf.org.uk/
Out of Hospital Cardiac Arrest – A Strategy for Scotland: http://www.gov.scot/Resource/0047/00474154.pdf
---
info@echo-3.co.uk | 0131 661 8352
You might also be interested in:
Accident Investigation  |  Accident Reporting  |  First Aid at Work  |  Risk Assessments & Method Statements  |  Safety, Health & Environment