Driver Health
£24.00 = 1yr access & certificate
Description
---
Driver Health training objectives
This awareness-level course is intended to provide commercial motor vehicle (CMV) drivers with information about how to improve and maintain their health. It will cover some common health concerns for drivers as well as things they can do to improve their physical condition.
NOTE: North America focused content with internationally applicable lessons
---
Benefits of echo3education Driver Health training
Accelerated Learning – 30 Minutes –
Complies with best practice
Rich Media & engaging content
Instant digital certificate on successful completion
Complementary training record back-up from echo3
---
Target Audience
Recommended:       Commercial Drivers.
Optional:                     Those spend a long time driving and wish to improve their health.
---
Learning Outcomes
List common health hazards
Describe how to improve health
Understand the benefits of healthy choices
Know US regulations regarding driver fitness.
---
Certification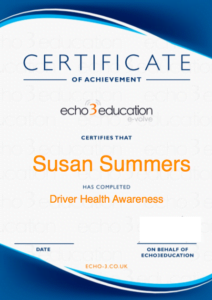 On successful completion of the Driver Health training course candidates receive an echo3 completion certificate, available as a PDF for immediate download. This requires achievement of the required passmark during the final assessment.
---
Booking the Driver Health course
Complete the checkout process when your cart is full.  Click the enroll checkbox if you intend to take a course yourself.  Payment can be made via Paypal or card (Stripe).  
Access to the Admin page is granted when payment is received.  At this page you will see each licence that has been purchased is available for assignment.  At this point simply add the email address of candidate(s) you wish to enroll.  Shortly afterwards candidates receive an email containing a link enabling course access.
If you wish to purchase 20 licenses or more use our Quick Quote page.  For information on the booking process and special requirements see our FAQ page.  
---
Deployment & Tracking
All courses can be exported to external LMS systems or we can fully administer the training by assigning licences for you and supply weekly completion reports via Excel.
The completion reports are vital feedback to evidence compliance and support your ongoing Risk Management system improvement.
Email info@echo-3.co.uk or Tel: 0844 884 3063 (9am to 5pm) to discuss your specific requirements.
---
Working At Height Training  |  Manual Handling Course  |  Asbestos Awareness Training Online  |  Slips Trips and Falls  |  Online Communication Skills Training  |  Warehouse Safety