Annually, there are 2.78 million work-related fatalities. That's 7500 people every day who lose their lives simply from trying to make a living.
Of this appalling total, 2.4 million fatalities (86.3%) are due to work-related diseases. Fatal occupational accidents account for the remaining 13.7%. In total, work-related mortality accounts for around 5% of all global deaths each year and all are avoidable.
That today, the 28th April, is the World Day for Safety and Health at Work seems a little ironic when we still clearly have so far to go.
Founded by the International Labour Organisation (ILO), the World Day for Safety and Health at Work is an international campaign to promote safe, healthy and decent work around the globe. Its aim is to focus attention on emerging trends in the field of occupational safety and health and on the magnitude of work-related injuries, diseases and fatalities worldwide.
The theme of 2019's World Day is "Safety and Health and the Future of Work". Inspired by the ILO centenary anniversary and discussions on the future of work, this year's theme puts focus on 100 years of work in improving occupational safety and health and looks to the future for continuing these efforts through major changes such as technology, demographics, globalisation, climate change, and other drivers that are affecting the dynamics of safety and health and the nature of professions in this area.In a global report published to mark the World Day for Safety and Health at Work, among other things, the ILO outline a number of occupational safety and health (OSH) opportunities presented by the rapid increase in digitalisation and ICT. One of these opportunities, of course, is very close to our hearts at echo3eduation – the opportunity to spread health and safety knowledge and improve workers' OSH skills and training. With the internet widening access to education and training, at e3 we have clients all over the globe and we take delight in the growing number of countries to where we have posted course completion certificates. The flipside to this increase in computer-based activity, and one of the OSH challenges identified in the report, is the ergonomic risk presented by sedentary working. This is something, as on online health and safety training provider, we are very aware of, so much so that last year we launched a new Move More at Work online course aimed at improving the health of desk-based workers.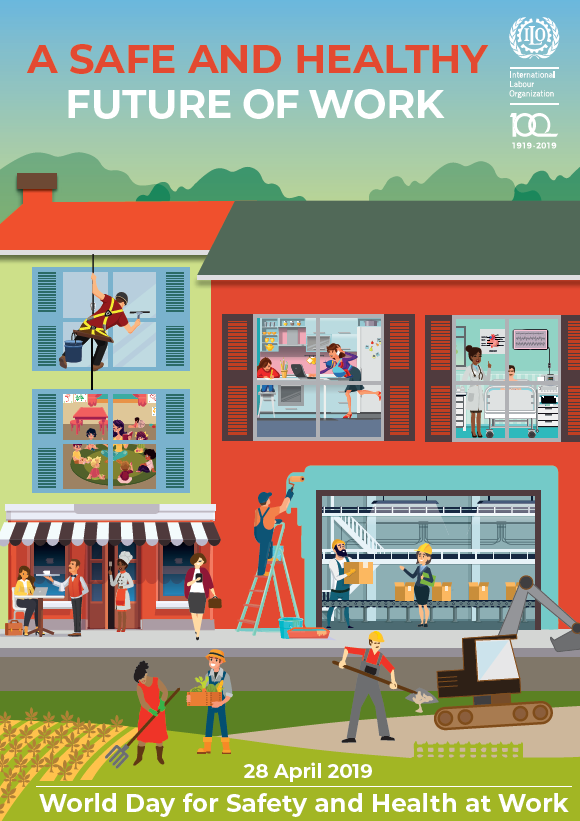 To mark the World Day for Safety and Health at Work, echo3education are launching the inaugural e3 World Safety Awards in recognition of initiatives around the world that are having a significant impact on improving worker safety. The hope is that, in raising the profile of successful approaches to health and safety, we can play our small part in reducing the number of work-related fatalities and help ensure that all workers return home safely at the end of their shifts.
Details of the first award category is below. We'll share more awards over the coming weeks, along with further chat about the ILO report on safety and health and the future of work.

Award Title: Safest Country to Work
Winner: United Kingdom
Based on work-related fatality statistics, the UK is currently the safest place to work with 0.45 fatalities per 100,000 workers. Runner up is Germany with 0.74 deaths per 100,000 workers. Despite positioning itself as one of the most advanced nations in the world, safety in the USA trails far behind with a shocking 3.45 fatalities per 100,000 workers. While statistics aren't available for every country, looking at geographic regions, Asia contributed about two-thirds of the global work-related mortality, followed by Africa at 11.8% and Europe at 11.7% (International Labour Organization). Asia's work-related fatality rate is nearly six times that of Africa and Europe.
There are many differences between countries in how seriously employers take their HSE obligations and employee understanding of health and safety risks. So, what is it that the UK is getting right? While more prosperous economies do tend to be safer, the clear, concise and common-sense advice from the Health and Safety Executive plays a huge part in the UK's strong performance. The UK has also benefited from a stable and effective system of regulation.
That said, 144 people suffered work-related fatalities in the UK last year (17/18). That's 144 people who went to work and never came home. We still have a lot of improving to do.
The next award will be announced soon…