This page provides a step-by-step guide to using our platform.   Echo3 offer a simple, effective way for managing safety training.
If you wish to up skill yourself or your team while meeting health & safety requirements then our platform is for you.
You can enrol colleagues, track their progress, download certificates, view expiry dates and send reminder emails.
So, how does it work?
STEP 1 - SELECT COURSES
Select the course(s) your staff required.  You do this following a Risk Assessment.  If you have 5 or more staff you will want to have a written copy of your risk assessment. 
There are a few workplace risks that warrant their own regulations.  Manual Handling, Fire Safety, First Aid, Display Screen Equipment, COSHH are the most common and will impact on your business.
Each regulation requires you to provide staff with 'appropriate' training.  If you have any doubts about the 'appropriateness' of your courses please contact us.
Regardless of your industry we offer most of courses your staff will require to work safely.
STEP 2 – Purchase courses
Add courses to basket.  Remember to check if 'GROUP PURCHASE' is selected.  This means the course will be available for you to send to others.  As opposed to completing yourself.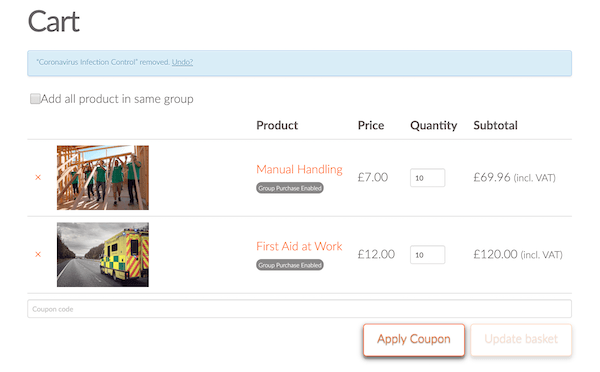 STEP 3 – Enroll Learners
Now you are at the enrolment page.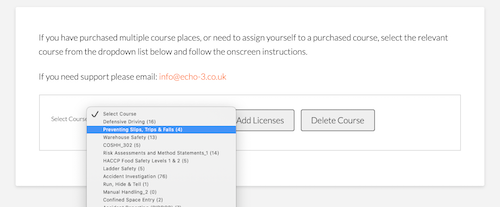 Select a course you have purchased then click 'Enroll User'.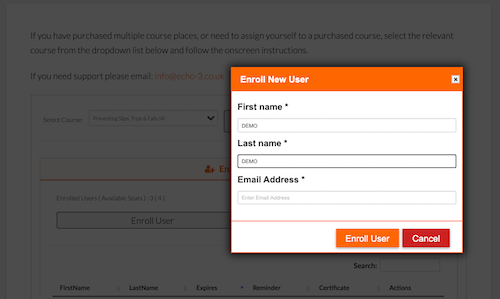 Add a learners First name, Last name and Email Address.  Then click 'Enroll User'.  At this point your colleagues receive and email with login details.
You will know they have been enrolled successfully because their details will appear below.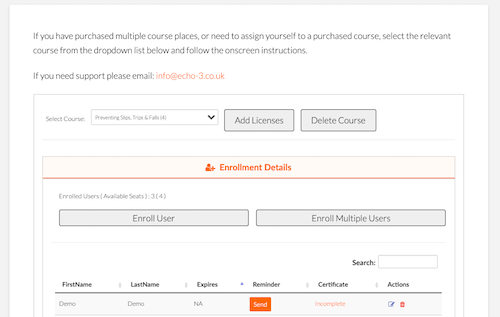 STEP 4 – Manage Learners
Once enrolled the dashboard becomes your tracking tool.  You can...
See who has completed the training
Download their certificates (Keeping a copy of certificates helps you comply with the Managing Health & Safety Regulations 1999).

 

See when their certificate is due to expire so you can easily keep training up to date.