HACCP Level 3
£36.00
Echo3 HACCP Level 3 online course providing participants with an understanding of the Hazard Analysis and Critical Control Points (HACCP) principles.  Taking around 90 minutes a CPD-accredited certificate is available on completion.

HACCP LEVEL 3
Online HACCP Level 3 course for managers and supervisors to equip them with the knowledge needed to identify and mitigate food safety hazards.  In the UK and EU you must be able to demonstrate you have put in place, implemented, and maintain a HACCP plan based on a number of essential key principles.
A CPD-accredited certificate is emailed on completion that should be retained for your safety records and evidencing due diligence.
---


LEARNING OUTCOMES
The objectives of the Echo3 online HACCP Level 3 course are
Provide participants with a clear understanding of Hazard Analysis and Critical Control Points (HACCP) principles and their practical application in food safety management.
Show participants how to conduct thorough risk assessments to identify potential food safety hazards and assess their severity and likelihood.
Enable learners to create and implement HACCP plans tailored to specific food production processes, including the establishment of critical control points (CCPs) and monitoring procedures.
Ensure participants are well-versed in food safety regulations helping them maintain compliance.
Train participants to conduct HACCP audits to continually assess the effectiveness of HACCP plans and ensuring ongoing compliance.
Foster a mindset of continuous improvement in food safety practices, encouraging learners to stay updated with emerging trends and technologies.

---

---
CERTIFICATE & ACCREDITATION
The Echo3 HACCP Level 3 course certificate demonstrates your commitment to safety and quality,
Our HACCP Level 3 course is accredited by the CPD Group, a recognised authority in accreditation.  This accreditation ensures that our training program adheres to the highest standards.
You will be emailed your CPD-accredited GDPR certificate once you have achieved 80% of more in the final assessment.  A posted certificate is available for £9.  The GDPR certificate is valid for 3 years and is retained online for 3 years as part of your safety records.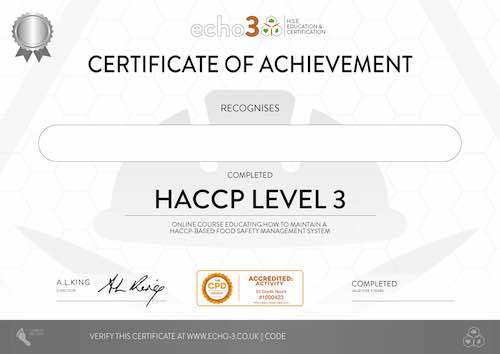 WHO SHOULD TAKE HACCP LEVEL 3 TRAINING?
The HACCP ('Hazard Analysis and Critical Control Point') regulation aim to reduce risks arising from biological, chemical and other hazards that can affect food produce and cause serious harm.
With the UK Food Standards Agency estimating that there are 2.4 million UK cases of food-borne illness each year, all food businesses have a moral and – importantly – a legal duty to actively maintain high food safety standards in their area of work.
Employers operating a food-related business in the UK, or elsewhere in the EU, are required to have in place a HACCP-based food safety management system; this is an essential criterion to meet legal responsibilities. To comply with regulations, employees must receive appropriate training on HACCP.
Online HACCP Level 3 training suited for a range of professionals including.
Food Safety Managers and Supervisors: Those overseeing food safety practices should take HACCP Level 3 training. It equips them with the knowledge needed to implement and manage robust food safety systems.
Food Industry Executives: CEOs, managers, and executives in the food industry should understanding HACCP principles to make informed decisions regarding food safety and quality management.
Individuals Seeking Career Advancement: Anyone looking to advance their career in the food industry can benefit from HACCP Level 3 training.
COURSE CONTENT
UNIT 1  |   INTRODUCTION  
In this first learning unit, we explain why it is vital staff understand that dangers that are present while preparing food.  Then we explain what HACCP is and its role in ensuring food safety.
UNIT 2  |   HACCP LEGISLATION  
In our second learning unit, we focus on the key food safety legislation. This includes, for example, the legal requirements for staff to receive training in HACCP to ensure your staff understand their obligations to your business and your customers.  The learning unit then explains the important role played by enforcement authorities, including their regulatory powers.
UNIT 3  |  THE 7 HACCP PRINCIPLES  
The third learning unit centres on each of the seven (7) principles of HACCP. We learn each of the principles and how they combine to provide a preventative approach to food safety.   The learning unit also looks at some specific processes that form key parts of HACCP.
UNIT 4  |  FOOD HAZARDS  
In our fourth learning unit, we examine the various sources of food hazard.  This ensures your staff understand the potential hazards to your customers, and their role in effectively controlling risks.
UNIT 5  |  HACCP PREREQUISITES  
In learning unit five, we detail and explore the 10 environmental conditions that must exist in order for HACCP to work.
UNIT 6  |  CONTROL MEASURES  
In our final learning unit, we look at the control measures that will help keep your customers safe.  The learning unit covers issues such as: Colour coding; Preventing cross-contamination; Temperature control; Handling and storage; Auditing; Product recall; Policies; Complaint handling.
UNIT 7  |  QUIZ

LEARNING OUTCOMES
On completion of the HACCP Level 3 course learners will:
Know food safety regulations and duties
Understand the various ways food can become a hazard to customers
Know principles of food safety and the role of HACCP to control hazards.
Know how to raise standards of food hygiene in your workplace.
Encourage your staff to demonstrate safe food practices.
Manage a compliant Food Safety Management System.
PLATFORM FEATURES
Memorable, motion-graphic training
Verifiable, CPD-accredited certificate valid for 3 years
Learn anywhere with an internet connection current
Helps compliance with current UK and EU legislation.
Support with training administration
Credit available for accessing all courses
Carbon neutral training solution

WHEN WAS HACCP DEVELOPED?
HACCP is a food safety management system that stands for stands for 'Hazard Analysis and Critical Control Points'.
HACCP was first developed for NASA in the 1960s to ensure food safety during the first space flights.
---
WHAT ARE THE BENEFITS OF HACCP?
Poor work practices can have disastrous consequences for individuals and for businesses.
Whether you are working in a restaurant, delicatessen counter, or small food outlet, you are legally responsible, so far is as reasonably practicable, for your health, the health of your co-workers, your employees, and of the public.
A HACCP system, properly implemented, will assure you that everything is being done to keep customers and your business safe.
HACCP benefits are neatly summarised with the acronym:
S.A.F.E.F.O.O.D.
Saves money in the long run
Avoids poisoning customers
Food quality increases
Ensures compliance (*EC No.852/2004)
Food safety increases
Organises processes to produce safe food
Organises employees, promoting efficiency and teamwork
Due diligence defence in court
---
WHAT ARE THE HACCP REGULATIONS? 
EU Regulations 852/2004 requires business owners to comply with specific food safety rules & carry out related activities in a hygienic way.  An effective food safety management system must be in place based which is suitable for the business to ensure the food produced or sold is safe.
A good food safety management programme is based on seven HACCP Principles. A structured, preventative system that achieves safety through hazard identification and control.
*NOTE: The same duties were retained in UK law after BREXIT through amendment to the General Food Regulations 2004 and the Food Safety Act 1990
---
WHAT ARE THE 7 HACCP PRINCIPLES?
The 7 principles of HACCP are?
Hazard Analysis
Critical Control Points
Establishing Critical Limits
Monitoring Requirements
Corrective Actions
Procedures
Verification
CONTACT
If you have any questions about this HACCP Level 3 online course please email [email protected].
---