Manual Handling
£7.00
Online manual handling course designed for everyone lifting at work.
Poor manual handling techniques can lead to a variety of painful musculoskeletal disorders.
This online course educates the principles of safe lifting and includes a verifiable, CPD-accredited certificate.
DURATION | 40 minutes


MANUAL HANDLING COURSE
This Manual Handling online course provides the knowledge needed to lift safely and helps organisations to meet their duties under UK Manual Handling Regulations.
Poor manual handling technique increases the chance of musculoskeletal disorders (MSDs).   In the UK, 470,000 workers suffer from work-related MSDs (RIDDOR 2020/21).  If lifting incorrectly the chance of falling also increases.
This online training provides the knowledge needed to lift safely, reducing the chance of injury and ill-health from manual handling activities.
---



LEARNING OUTCOMES
After completion of this Manual Handling training online learners will:
Know how manual handling injuries usually occur
Understand symptoms of musculoskeletal disorders
Be able to assess the risk of a lifting activity
Know how to safely conduct common lifts, like Team lifts, Pushing & Pulling, and Lifting from heights
Understand the role of mechanical aids



WHO SHOULD TAKE THIS COURSE
Employees tasked with lifting or carrying as part of their work duties.  Example job roles include:
Skilled trade occupations
Healthcare and social workers
Warehouse staff
Agricultural workers
Cabin Crew
Hospitality staff
Everyone planning lifts or undertaking manual handling risk assessments.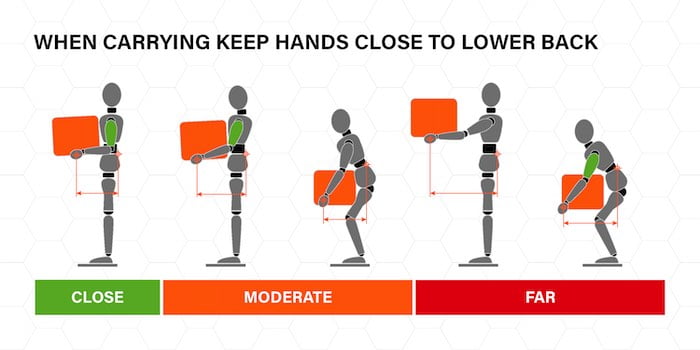 CERTIFICATE
On successful completion of the course a CPD-accredited Manual Handling certificate will be emailed.
Successful completion requires the learner to demonstrate a good understanding of the manual handling course content by achieving 80% or more in the final assessment.
The assessment is a 15 question, multiple-choice quiz.  The quiz can be retaken if required.
The Manual Handling certificate is valid for 3 years and a posted version can be ordered separately.

COURSE CONTENT
UNIT 1 |  INTRODUCTION
Firstly, we outline what manual handling is. Then highlight risks from poor manual handling practices and detail duties of both employers and employees.
UNIT 2 |  PHYSICAL CONCERNS
Next, we get an understanding of the musculoskeletal system, including common disorders and ways to prevent disorders.
UNIT 3 |  RISK ASSESSMENT
Then, we detail risk assessments:  what they are, when they are needed and how they should be undertaken.
UNIT 4 |  SAFE LIFTING TECHNIQUES
Finally, we cover how to undertake common workplace lifts safely,  e.g. lifting from height, lifting from the ground, pushing, pulling and team lifts.

COURSE OBJECTIVES
Reduce injuries at work resulting from manual handling actives.
Help employers comply with Manual Handling and Managing Health and Safety regulations

PLATFORM FEATURES
Memorable, motion-graphic content
Study anywhere with an internet connection
Clear enrolment and reporting dashboard
Licenses purchase remain until used
Verifiable, CPD-accredited certificate
Carbon neutral training solution

MANUAL HANDLING FAQs
What is the cost of poor manual handling?  
Musculoskeletal disorders (MSDs) account for 28% of all work-related ill-health.  Manual handling, which refers to the act of transporting a load by one or more people, are the most common cause of MSDs.
Each case of ill-health causes on average £19,000 (2018/19) of economic damage spread across the individual, employers, and the government.
In total ill-health costs employers £3.2bn.  A significant proportion of which is caused by poor manual handling activities.
---
What does legislation require?  
Duties of the Manual Handling Regulations (Amended 2002) require employers to take all 'reasonably practicable' steps to reduce risks from lifting activities to an 'appropriate' level.
Practically this means:
Assess the risks from lifting and manual handling
Eliminate manual handling activities where possible
Reduce the risks from the remaining activities
Periodically reassess risks including gathering staff feedback
Management of Health & Safety Regulations require organisation with 5 or more staff document the risk assessment and maintain records.
---
Do you need manual handling training?
First, think about these questions.
Do staff have to pick up or carry objects frequently?
Do they need to carrying objects a long way?
Does the lifting require reaching up high or bend down?
Does the lifting require twisting, bending or any other awkward postures?
Has anyone experienced musculoskeletal disorders from work previously?
Are team lifts required?
If some of your answers are yes, then, Manual Handling training is likely appropriate.  The extent of training should be proportional to the risk.
---
Is a Manual Handling online training appropriate?
Although manual is a physical activity it is not a difficulty skill.  The key to lifting safely is knowing how to assess a task and then lift appropriately.
Knowing how to lift safely means understanding the principles of safe lifting.  These 8 principles are:
Assess the task, the individual, the load and the environment
Have a Broad stable base,
Bend your knees
Keep you back straight
Have a firm palmer grip
Keep your arms in line with trunk
Weight close to your centre of gravity
Turn feet in direction of travel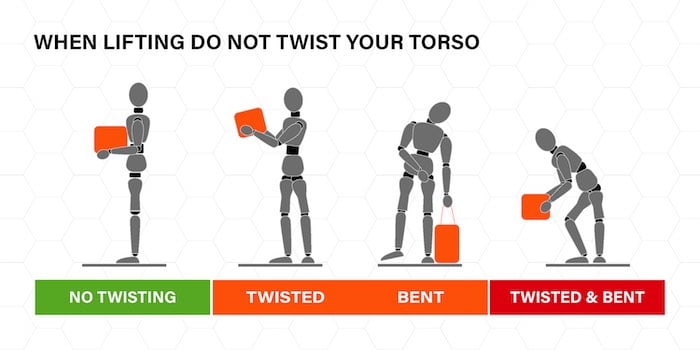 CONTACT
If you have any questions about this online Manual Handling course please email [email protected]