Airport Security
£12.00
This online Airport Security training course provides the knowledge to help keep your airport secure.
DURATION | 50 mins

AIRPORT SECURITY COURSE
Airports are critical infrastructure and therefore must always maintain high security standards.
This online Airport Security course provides employees with an understanding of how to maintain high airport security standards.
On successful completion of the course an Echo3 certificate will be emailed.
If you require an online GSAT training course for you staff please go here.
---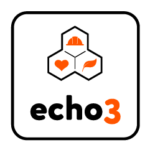 LEARNING OUTCOMES
Understand the unique threats to airports and planes
Understand airport security protocols and best practice
Learn how to spot threats
Know how to contribute to making your airport safer
Understand the principles of escorting visitors or passholders airside
WHO SHOULD TAKE THE AIRPORT SECURITY COURSE
Everyone who works or wishes to seek employment in an airport and does not require access 'airside'.  For those who require access airside in UK airports you need to complete a GSAT course.
This Airport Security course covers much of the same content as a GSAT course but isn't currently accredited by the DFT.
AIRPORT SECURITY CERTIFICATE
Learners are emailed their Airport Security certificate when they have achieved 80% or more in the final multiple-choice quiz.
If a learner scores less than 80%, they may revisit any part of the course and retake the assessment until successful.
A posted copy of the certificate is available for £9.
The Airport Security certificate is valid for 3 years
COURSE CONTENT
UNIT 1  |  Threats to Aviation
The aviation industry has been a prime target for terrorists for many years. The threat is real; but with your help, we can do much to reduce it. In this module we alert you to the nature of the threat and help you understand what you can do to assist in the day-to-day security of your airport.
UNIT 2  |  Security in the Aviation Industry
This module will give you a basic understanding of how you can help to make your airport a safer place.
UNIT 3  |  The Trainee's Role
In this module, you will learn that working at the airport means that you will often have access to confidential information. This information is of interest to those looking for ways to breach security. You will also have access to buildings, hangars, cargo and storage areas that such people would like to enter, as this would provide access to baggage, cargo and even aircraft.
UNIT 4 |  Access Control and the Screening Point
In this module you will learn about the access control measures in place at your airport and your responsibilities at the screening checkpoint
UNIT 5  |  Escorting Employment and Visitor Pass Holders
In this module, you will learn about the principles and responsibilities of escorting a visitor or an employment pass holder airside.
COURSE OBJECTIVES
Help airport operators maintain high security standards for staff who don't require Airside access.
Help airport staff understand their duties, and the ways they can help maintain high airport security standards
PLATFORM FEATURES
Memorable, motion-graphic training
Verifiable, CPD-accredited certificate valid for 3 years
Learn anywhere with an internet connection current
Helps compliance with current UK and EU legislation.
Support with training administration
Credit available for accessing all courses
Carbon neutral training solution

AIRPORT SECURITY TRAINING FAQs
Who needs to take a Airport Security course?
Anyone wishing to work airside must take a general security awareness course every 5 years.
Can I work airside after completing this course?
No, those wishing to work airside need to complete a similar course but it must be DFT accredited and is referred to as GSAT