Asbestos Awareness Refresher
£9.00
Designed for anyone looking to refresh their asbestos awareness certificate.This online Asbestos Awareness refresher course has open navigation so any content you free comfortable with you can skip.  Learners are still required to achieve an 80% passmark in the final quiz to receive their Asbestos certificate.
DURATION |  30 to 90 minutes


Asbestos Awareness Refresher
CAT A Asbestos Awareness training is required for everyone working where asbestos could be present.  This Asbestos Awareness refresher course is for anyone who has previous completed CAT A asbestos training.
Accredited by both the IATP and CPD this online Asbestos Awareness refresher course covers the very same content as our Asbestos Awareness course but is designed specifically for those who have completed the course before.
Featuring open navigation learners are able to click through content they are already familiar with.  Meaning the content can be covered more quickly.  Learners must still evidence that they understand all critical content with the final quiz.
Should the quiz be failed, learners can navigate back the relevant content, further develop understanding then try the quiz again.
The main benefit of an open navigation course is that the completion time is reduced from 90 minutes to around 30 minutes for those who already have a good understanding of the risks of asbestos before commencing the refresher course.




---
Course Content
UNIT 1  | ASBESTOS EXPLAINED
UNIT 2 | EFFECT ON HEALTH
UNIT 3 | ASBESTOS CONTAINING MATERIALS (ACMS)
UNIT 4 | SAFE SYSTEMS OF WORK
UNIT 5 | LEGAL RESPONSIBILITIES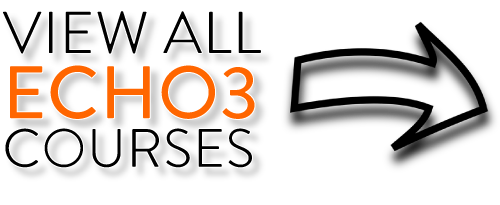 INCLUDED
IATP & CPD accredited certificate
Best value online Asbestos course
Available on phones, tablets and desktops
Clear, concise motion-graphic content
Net carbon-zero product

WHAT YOU WILL LEARN
On completion of the online Asbestos Awareness refresher course, participants will have a greater understanding of the dangers associated with asbestos and how to avoid exposing themselves and others to those dangers.
This course is intended to creating a safer working environment.  In particular, the topics we will cover include what asbestos is and its effects on health asbestos containing materials (ACMs), and legislation surrounding asbestos.

ASBESTOS CERTIFICATE
At the end of the IATP & CPD accredited online Asbestos Awareness course there is a 15 question, multiple-choice quiz.
If learners demonstrate their understanding of course content by achieving a minimum score of 80%, we'll email them their completion certificate.
Learners scoring less than 80%, they can revisit any part of the course and retake the quiz until they are successful. A posted certificate is available for £6.
This Asbestos certificate is valid for 3 years.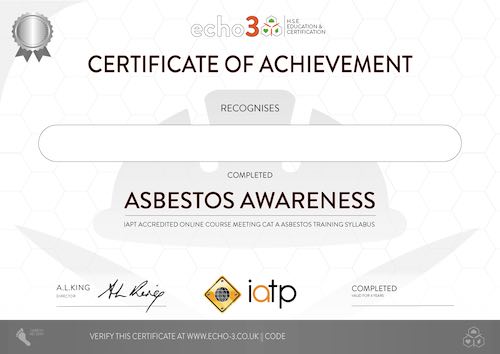 CONTACT
If you wish more information about this online Asbestos Awareness Refresher course please email [email protected]