Safe Excavation
£18.00
Online Safe Excavation Awareness course following UK best-practice guidance (HSG47).  CPD-accredited certificate, duration 50 minutes, certificate valid for 3 years.

SAFE EXCAVATION

Online safe excavation awareness course for ensuring that individuals working in construction or related fields understand and implement proper excavation safety protocols, reducing the risk of accidents, injuries, and damage to underground utilities.
Excavations are one of the most hazardous types of work in the construction industry.
To reduce the risks, the UK Health & Safety Executive publishes guidance (HSG47) that requires that employees receive appropriate training.
This online Safe Excavation training covers best-practice outlined in HSG47.  In addition, the accredited Echo3 certificate helps demonstrate an organisations compliance with regulations.
---

The objectives of the Echo3 online Safe Excavation Awareness course is to impart essential knowledge so staff can excavate and work with Buried Services safely.
Participants will learn to identify and mitigate excavation hazards, interpret utility markings, and comply with regulatory requirements.
The course aims to instil proficiency in the proper use of safety equipment and emergency response procedures.
Ultimately, it strives to empower individuals to create a secure excavation environment, reducing the risk of accidents and promoting a culture of safety within the construction industry.

Construction workers, supervisors, and project managers engaged in excavation projects should take an online Safe Excavation Awareness course.
This training is essential for those involved in ground-disturbing activities, ensuring they acquire the knowledge to identify and mitigate excavation hazards.
By understanding proper safety protocols, participants contribute to a safer work environment, reducing the likelihood of accidents and promoting compliance with regulatory standards in the construction industry.

UNIT 1 | DANGERS AND THE LAW
In unit one we highlight the dangers present when excavating. We set out the legal and moral, duties of various parties that help protect those undertaking excavation works.
UNIT 2 | EXCAVATION CONTROL MEASURES
So far, we have discussed the dangers associated with excavation. In this unit, we will look at control measures that decrease the risks involved in excavation work.
UNIT 3 | QUIZ
At the end of the Safe Excavation training there is a 15 question, multiple-choice quiz.
Once a learner demonstrates their understanding of the course content, by achieving a score of 80% or more, we email the completion certificate.
Score less than 80%, and the learner can revisit any part of the course and retake the quiz until successful. A posted certificate is available for £9.
The Safe Excavation certificate is valid for 3 years.
---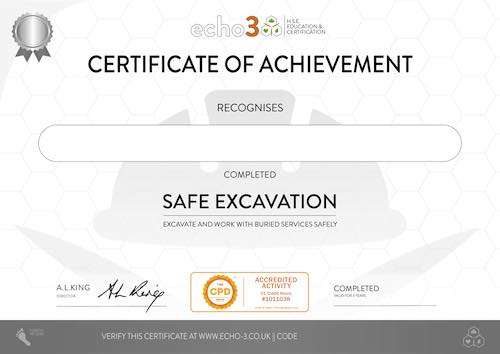 Echo3 online health and safety training offers numerous benefits, including flexibility with self-paced learning, accessibility from any location, and a diverse range of courses catering to specific industry needs.
The Echo3 platform employs interactive Units, enhancing engagement and knowledge retention.
Participants receive up-to-date information, ensuring compliance with the latest health and safety regulations.
Echo3's user-friendly interface and expertly designed content make complex topics easily understandable.
This Safe Excavation training not only prioritises safety but also provides cost-effective and carbon-negative solutions for businesses.
Excavation or buried services refers to any work which involves penetrating or disturbing the ground/floor.
This includes:
Hand digging
Hammering road pins
Excavation with plant Breaking up slabs
Floor sawing
Removal of trees and hedges
WHAT ARE BURIED SERVICES?
Underground or buried services are different terms with the same meaning.   Underground services refer to pipes, cables and equipment associated with electricity, gas, water, and telecommunications.
DANGERS OF BURIED SERVICES
Striking underground services (also referred to as buried services) can, at best, be nothing more than an inconvenience (temporary damage to a data cable for example).
However, where the services are of higher risk such as electricity or gas, an unintended strike can result in a serious injury or fatality.
Injuries are usually caused by the explosive effects of arcing current, and by any associated fire or flames that may result when a live cable is penetrated by a sharp object such as the point of a tool
Strikes to things such as water or sewage mains can also result in severe repercussions.
Strikes to services can also lead to property and environmental damage as well as damage resulting from fire, explosion, flooding etc.
BURIED SERVICES UK GUIDANCE
The UK health and safety executive produces guidance on how to comply with health and safety laws.
Guidance document HSG47 is written for everyone work on or near underground services.
Guidance document HSG150 provides general safety guidance for anyone working in construction.

If you have any questions about this online Excavation Safety training course, please email [email protected]