Customer Service
£7.00
Learn the basic principles of providing excellent customer service.
DURATION | 20 minutes

Description
Online Customer Service Skills Training | The modern commercial world is very competitive.  If your staff understand how to provide excellent customer service your business is more likely to;
Enhance your organisations reputation
Generate new business
Retain existing customers
Improve when mistakes to occur
---
---
Course Objective
To provide information about the importance and key elements of strong customer service for any business.
---
Learning Outcomes
Why great customer service matters
Components of delivering great customer service
Dealing with difficult situations
---
Course Content
Does Customer Service Really Matter?
Defining Great Customer Service
Key Ingredients of Great Customer Service
Dealing with Difficult situations
Quiz
---
Certificate
At the end of the Customer Service Skills course there is a 10 question, multiple-choice quiz.  If learners demonstrate their understanding of course content by achieving a minimum score of 80%, we'll email them their completion certificate.  If learners score less than 80%, they can revisit any part of the course and retake the quiz until they are successful. A posted certificate is available for £6.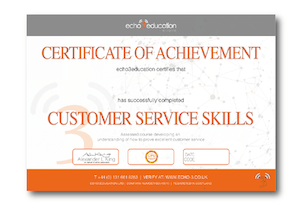 ---
Ideal For
Everyone in your team who is customer facing
---
Customer Service Training Includes
Self-paced, interactive content
Final assessment to evidence learning
Emailed certificate
Completion reports
12 months access
Zero Carbon product
---
Why is Customer Service Important?
Good customer service is vital for business success.
Retaining your existing customers is much easier than trying to find new ones.  Providing great customer service helps to strengthen their loyalty both to you and your brand, as well as enhancing your company's reputation.  
Happy, satisfied customers help generate new business for you by telling others about their experience.  It's difficult to underestimate how powerful these word-of-mouth recommendations can be.
Now, contrast that with the situation where you have delivered poor customer service.  Disgruntled, dissatisfied and angry customers can cause huge damage to your reputation and business by loudly publicising what happened to them.  And because people are much more likely to share their negative experiences, this can overshadow any positive customer service you may have provided. 
In this day and age, social media and online reviews make widespread sharing of experiences – whether positive or negative – easier than ever.
---
So, what is great customer service?
The phrase "The Customer is Always Right" is often quoted as a basic truth behind customer service ideals.  
But this can't be true for every situation, can it?  Perhaps a more appropriate saying would be "The Customer Always Thinks They are Right".  Or, that the customer is always right, even when they're not!
Imaging you are dealing with an unhappy customer.  If you treat them with respect, listen carefully to their issue and empathise with them, this helps to build trust regardless of whether they are in the "right" or the "wrong".  They will be much more likely to then work with you to reach a solution which everyone is satisfied with.
Providing great customer service requires a few different ingredients that are covered in the Customer Service Course
---
OFFICE SAFETY  |    COMMUNICATION SKILLS    |    DELEGATION SKILLS
E: [email protected] | T: 0131 661 8253