Data Protection
£12.00
Online Data Protection course to help ensure compliance with the UK Data Protection Act and GDPR, safeguard personal information and reduce the risk of legal consequences for mishandling sensitive data.

DATA PROTECTION

This Data Protection online training course has been designed for all staff handling personal data.  It provides the knowledge needed to comply with the UK Data Protection legislation.
As the world becomes more data driven, customers have the right to expect their data to be handled with care.
In the UK non-compliance is enforced by the Commissioner's Office (ICO) and fines are potentially high.
This 50-minute online Data Protection course is clear and easy to follow.   Staff will learn how to comply with their responsibilities under UK regulations.  The Data Protection certificate helps demonstrate compliance by organisations.
---

The Echo3 Data Protection course aims to provide knowledge on the Data Protection Act and GDPR.
The ultimate objective is to empower participants to create and maintain a culture of compliance.  Thereby protecting customers privacy, and avoiding legal ramifications associated.
Participants learn to manage and protect personal data, implement security measures, and navigate consent requirements.
The course also covers incident response and reporting procedures, ensuring participants are equipped to address data breaches effectively.

UNIT 1   |     DATA PROTECTION ACT 2018
In unit one, we will focus on the fundamentals of the GDPR, and the authorities associated with data protection.
UNIT 2   |     GDPR EXPLAINED
In unit two, we will look into the GDPR in more depth, and how data protection laws have evolved over the years.
UNIT 3   |     LAWFUL BASIS FOR PREPARATION
In unit three, we will look at how organisations use personal data, and the steps they must take to make this use lawful.
UNIT 4   |     RIGHTS AND BREACHES
In unit four, we will look at the individual at the centre of personal data, and what rights they have when they're data is collected. We will also look at how organisations must comply with data protection laws and how they should respond if that data is compromised.
UNIT 5   |     RESPONSIBILITIES AND OBLIGATIONS
In unit five, we will look at the key responsibilities' organisation have to do in order to comply with the GDPR. We will look at the necessary action that is required for a company to protect an individual's data, and how penalties can be enforced on organisations for failure to comply with the GDPR.
At the end of the online Data Protection training there is a 15 question, multiple-choice quiz.  If learners demonstrate their understanding of course content by achieving a minimum score of 80%, we'll email them their completion certificate.
If learners score less than 80%, they can revisit any part of the course and retake the quiz until they are successful. A posted certificate is available for £9.
The certificate remains valid for 3 years.
---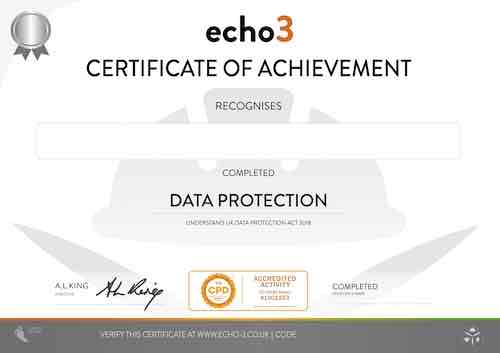 In the UK, anyone handling personal data, including but not limited to business professionals, data managers, IT personnel, and those in supervisory roles, should take an online Data Protection course.
This training is crucial to ensure an understanding of their legal obligations under the Data Protection Act and GDPR, fostering a culture of responsible data handling.
Individuals involved in processing or managing personal information will benefit from the knowledge gained in the course, reducing the risk of data breaches, safeguarding privacy, and avoiding legal repercussions associated with mishandling sensitive information.
Memorable, motion-graphic content
Learn anywhere with an internet connection.
Verifiable, CPD-accredited certificate emailed on completion.
Helps demonstrate compliance with the Data Protection Act
Carbon net-zero training solution.


What are Data Protection Fines?
The Information Commissioner's Office (ICO) can impose data breach fines up to a 4% of the offending organisation's turnover in the preceding financial year.
Some of the biggest fines have been to companies such as British Airways (£20M), Marriott Hotels (£99M) and Yahoo (£85M). Facebook narrowly escaped a huge fine, which could have been as high as £10.3 billion had the GDPR been in effect.
Does BREXIT effect GDPR?
No. All GDPR obligations remain post Brexit.  Since the of the GDPR Law became part of the UK Data Protection law on the 31st December 2020