GDPR Awareness
£12.00
Online GDPR Awareness course providing the knowledge needed to comply with legislation, protect sensitive data, avoid substantial fines while also building trust with you customers.
50 mins (approx.)

GDPR AWARENESS

The Echo3 online GDPR course designed to equip staff with the knowledge needed to protect sensitive data and uphold the principles of the GDPR regulation.
The EU General Data Protection Regulation (GDPR) came into effect in May 2018 and represents a ground-breaking shift in how organisations must handle personal data.
Providing GDPR training to staff is not only required as part of the regulation but also helpful for building trust with you customers that their data will be secure.  Non-compliance can result in fines of up to 4% of a company's global annual turnover.
---

On completion of the Echo3 online GDPR Awareness training participants can expect to know:
GDPR Principlesincluding data subject rights, lawful processing, consent, and accountability.
Legal Complianceby implementing necessary measures to meet regulatory requirements.
Understand "privacy by design"by incorporating data protection considerations into the development of products, services, and systems.
Data Subject Rights,be prepared to handle data subject requests, including the right to access, rectify, and erase personal data.
Data Protection Officer (DPO) Role,understand the responsibilities of a Data Protection Officer.
Successful completion of the Echo3 online GDPR course will result in certification, demonstrating participants' knowledge of GDPR and their ability to comply with General Data Protection Regulations.
Our online GDPR course is accredited by the CPD Group, a recognised authority in accreditation.  This accreditation ensures that our training program adheres to the highest standards.
You will be emailed your CPD-accredited GDPR certificate once you have achieved 80% of more in the final assessment.  A posted certificate is available for £9.  The GDPR certificate is valid for 3 years.
---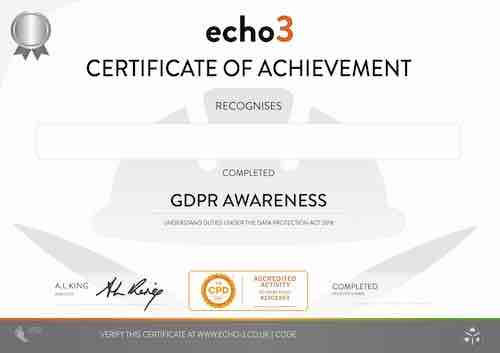 Order for yourself.  Simply click 'Purchase Course' above.  Check out securely with either Stripe or Paypal.  After purchase you will have immediate access to the course.
Order for colleagues.   Select 'I'm buying for others' above. Add the number of learners you have and checkout securely with a company card via Stripe or Papyal.  Or if you wish to receive an invoice, please email us ([email protected]).
After ordering go to 'Enrol Others'.  Add each learner's name and email.  They are automatically sent login details.  You can see and download your learners certificates.
If your learners don't have email address or you have a lot of learners to enrol, please email us ([email protected]).  We can find an administration solution that works for you.

GDPR training is necessary for anyone who handles personal data within you organisation. Personal data is a broad term that refers to any information that can be used to identify an individual for example their email, image, address and any health or financial data.
Likely roles that will see this data include;
IT professionals, HR staff, marketers, legal team and any other employees who interact with customer data.
Also managers and executives responsible for data governance and compliance.

UNIT 1  |     GDPR Basics
In unit one, we will focus on the fundamentals of the GDPR, and the authorities associated with data protection.
UNIT 2  |    GDPR Explained
In unit two, we will look into the GDPR in more depth, and how data protection laws have evolved over the years.
UNIT 3  |    Lawful Basis for Preparation
In unit three, we will look at how organisations use personal data, and the steps they must take to make this use lawful.
UNIT 4  |    Subject Rights
In unit four, we will look at the individual or subject of personal data, and their rights.
UNIT 5  |    Responsibilities, Obligations and Breaches
In unit five, we cover key organisational responsibilities under GDPR.  Including the necessary action required to protect an individual's data, and the penalties for non-compliance.
The Echo3 online GDPR Awareness course offers a concise, expert-led, and accessible way to understand the complexities of GDPR.
Our GDPR training features comprehensive, CPD-accredited content, interactive learning modules, and up-to-date information, equipping individuals with the knowledge and practical insights needed to navigate GDPR compliance effectively.
Whether you're an organisation seeking to ensure data protection or an individual looking to enhance your understanding of privacy regulations, the Echo3 GDPR awareness course provides a reliable and efficient path to compliance and responsible data handling, crucial in today's data-driven world.


If you have any questions about this online GDPR Awareness training course, please email us at [email protected].