Monkeypox Awareness
£12.00
This online Monkeypox Awareness course provides an understanding of how to protect yourself and colleagues from Monkeypox.
DURATION | 35 mins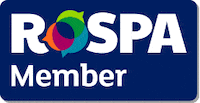 MONKEYPOX AWARENESS
This online Monkeypox Awareness course provides learners with an understanding of the disease, and how to reduce the risk to themselves and others, including in the workplace.  Regularly updated, it is ideal for general awareness training for all staff, and for anyone with line management responsibilities.
Until recently, cases of monkeypox were almost exclusively confined to the endemic regions of west and central Africa. But 2022 has seen a surge of cases reported in multiple non-endemic countries across the globe, driven by community transmission.

COURSE CONTENT
This Monkeypox Awareness course covers;  
What is Monkeypox?

Who is at Risk?

Transmission

Symptoms, Diagnosis & Treatment

Protecting Yourself

Public Health Response

Monkeypox and Work

WHO SHOULD TAKE THIS COURSE?
The Monkeypox Awareness course is suitable for anyone who wants to know more about this emerging health risk.
The course can also be useful to line managers too, as it covers controlling the risk of transmission in the workplace.
It may be of particular relevance to higher risk groups.  For example, healthcare workers, men who are gay, bisexual or have sex with other men.
CERTIFICATE
At the end of the online Monkeypox Awareness course is a 15 question, multiple-choice quiz.
When learners demonstrate an understanding of the content by achieving 80% or more, we email the certificate.
If the score is less than 80%, learners can revisit any part of the course and retake the quiz until successful. A posted certificate is available for £9.
The Monkeypox Awareness certificate is valid for 3 years.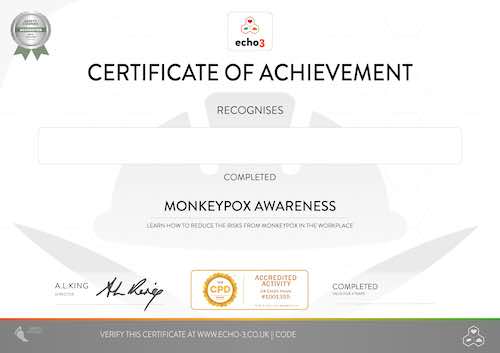 COURSE OBJECTIVES
to explain what monkeypox is; and
to minimise the risk of transmission of the disease
MONKEYPOX FAQs
---
What is Monkeypox?
Monkeypox is a disease caused by the monkeypox virus.  It is a member of the orthopox family of viruses, which includes smallpox and cowpox.    Monkeypox is closely related to smallpox, although typically less severe and less infectious.
Monkeypox is a zoonotic illness, meaning it can be transmitted from animals to humans, although it can also be spread from human to human.
Its name comes from the fact that the first recorded cases occurred in monkeys, in a Danish research lab in 1958. The first human case was identified in 1970 in the Democratic Republic of Congo.
---
What is the 2022 Outbreak?
During May to June 2022, 27 different countries reported around 1,000 cases of confirmed monkeypox to the World Health Organization.   Most cases to date have presented through sexual health services, mainly – but not exclusively – involving men who have sex with other men.  Unusually, most cases are not linked to travel to an endemic area – instead, where cases have been associated with foreign travel, this has been to Europe and North Africa.
This fast and concurrent rise in case numbers in many different non-endemic regions suggests transmission in the community may have been happening for some time.
---
What sources of information are reliable? 

CONTACT
If you have any questions about this Monkeypox Awareness training course online please email [email protected]