Paediatric First Aid
£12.00
Echo3 Online Paediatric First Aid Course designed to equip individuals with the knowledge necessary to respond effectively to medical emergencies involving young people.  Duration 60 minutes.

PAEDIATRIC FIRST AID

Online Paediatric First Aid course designed to support your ability to preserve life by recognising a medical emergency, identify essential actions needed to prevent a situation worsening, and how to promote recovery in infants and young people.
Offering a verifiable, CPD-accredited certificate, this fully online Paediatric training provides the knowledge needed to ensure the wellbeing of those for whom you care.
For employers, the certificate also provides key evidence of training for retention in safety records.
---

The learning objectives of the Echo3 Online Paediatric First Aid course include:
Life-Saving Techniques, such as cardiopulmonary resuscitation (CPR) and the use of automated external defibrillators (AEDs) for children and infants.
Choking Response, how to recognise and respond to choking incidents in paediatric patients.
Common Childhood Injuries, how to treat injuries such as cuts, burns, fractures, and head injuries.
Allergic Reactions, Knowledge of allergic reactions, including anaphylaxis, and the correct use of epinephrine auto-injectors.
Seizures and Convulsions, providing appropriate care for children experiencing seizures or convulsions.
Respiratory Issues, responding to respiratory issues like asthma.
Poisoning and Ingestions, awareness of common household poisons, their effects on children, and proper response measures.
Emergency Preparedness, preparing for emergency situations, creating a safe environment for children, and ensuring that first-aid supplies are readily available.
Upon completing this course, participants will know how to respond to paediatric medical emergencies.

UNIT 1 |    INTRODUCTION TO PAEDIATRIC FIRST AID
In this first learning unit, we outline the main aims and responsibilities of anyone who may be required to deliver paediatric first aid in order to preserve life, prevent the situation deteriorating, and promote recovery.
We summarise the legal obligations regarding first aid provision in the workplace, and explain what should be maintained in any first aid box.
UNIT 2 |    PAEDIATRIC LIFE SUPPORT
In our second learning unit, you will learn how to recognise a medical emergency, developing your understanding what to do in a situation that involves performing first aid on children.
We look at how to conduct a Primary Survey, and the appropriate response in the vital first minutes of any medical emergency.
As part of this unit, you will learn how best to act if a child is unresponsive and not breathing, including how to perform CPR and how to use a defibrillator for both child and infant resuscitation. We also look at what to do when a child is unresponsive and breathing, and how to put babies and children in the Recovery Position.
UNIT 3 |    ACUTE MEDICAL CONDITIONS
The third learning unit focuses on identifying a range of acute medical conditions, including asthma, meningitis and febrile convulsions. You will learn what the primary first aid response is in order to relieve the child's condition and preserve their life.
UNIT 4 |    COMMON INJURIES AND ILLNESSES
Our final learning unit examines the symptoms of a range of common childhood injuries and illnesses, and the appropriate first aid response. These include both minor incidents such as insect stings and grazes, and more serious emergencies such as spinal injuries and burns.
ACCREDITATION & CERTIFICATE

At the end of this online Paediatric First Aid course is a short online assessment aimed at reinforcing and testing individual learning.
Where the learner demonstrates their understanding of course content by achieving a minimum score of 80%, a completion certificate is issued by email.
If the score is less than 80%, learners are offered the opportunity to revisit any part of the course and retake the quiz until successful.
The verifiable, CPD-Accredited certificate is then emailed to you, and can be held for retention within your training records.
A posted certificate is available for £9.
The Paediatric First Aid certificate is valid for 3 years.
---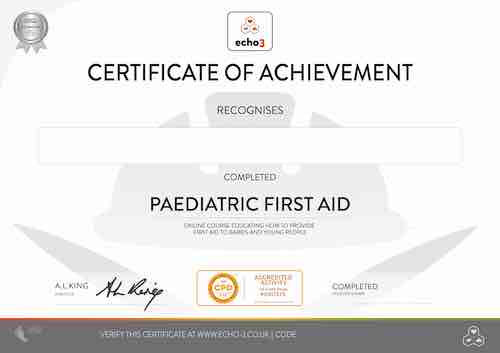 WHO SHOULD TAKE THIS COURSE?

This Paediatric First Aid course is aimed at any individual who may work in a role with, or around, children and infants.
This includes a wide range of caring and teaching professionals, such as:
School and nursery staff
After-school workers
Sports club staff
Play and activity centre staff
Childminders
Babysitters
The course content is also suitable for providing essential knowledge to the parents/carers/family of children and infants.
Memorable, motion graphic training
Study anywhere with an internet connection
Clear enrolment and reporting dashboard
Licenses purchased remain until used
Verifiable, CPD accredited certificate
Carbon neutral training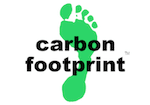 Paediatric First Aid is an essential skill.  But if a child or infant required first aid, would you know how to respond?
Unfortunately, only 5% of UK adults currently feel confident to administer paediatric first aid.  Yet when faced with an emergency, there are simple steps you can take before the emergency services arrive that could help save the life of a child.
Suitable for anyone who is around children, either within the family setting or the workplace, this course offers the potentially lifesaving knowledge needed to respond appropriately to a range of the most common medical emergencies – building your confidence and developing your skills so you can offer critical first aid when it is needed most.
WHAT IS PAEDIATRIC FIRST AID?
What is paediatric first aid?
Paediatric first aid refers to the skills and knowledge you need to provide immediate and effective emergency care to children and infants. It is the ability to preserve life, prevent the situation worsening and promote recovery in babies and young people.
Knowing how to assess an emergency quickly and calmly, how to get help and how to provide initial first aid response can mean the difference between life and death.
Any medical emergency is distressing. It is particularly upsetting when a child or infant requires emergency first aid.
In England and Wales those working in early years settings (children from birth to 5) require a 12-hour paediatric first aid course, including all newly qualified chid carers. This is a requirement of the Department for Education EYFS statutory framework.
In Scotland and NI early years settings, there is no mandatory requirement from the devolved education departments.
Health and safety legislation requires that every organisation has appropriate first aid arrangements.  This means there must be a first aid kit and staff with sufficient training.
Finding the right First Aid course
IS ONLINE TRAINING APPROPRIATE?
Not everyone appreciates that a first aid response for an infant or child is different from that of an adult.  Understanding those differences can be vital to ensuring effective care and assistance.
This online Paediatric training course is a great option for all those who need to understand emergency arrangements and where face to face course is not practical due to either cost or time constraints.
The correct knowledge builds the confidence to act appropriately.
CONTACT
If you have any questions about this online Paediatric First Aid course, please email us at [email protected].