The UK has just recorded an increase of 1,111 new COVID-19 cases in one day (6th September 2020) sparking fears of an imminent second wave.
SOURCE; UK Government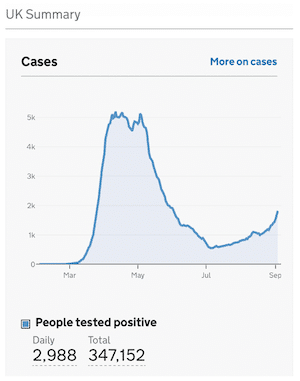 On the same day, Domonic Raab highlighted how working from home is hurting city centre economies.
SOURCE; BBC
So, as the furlough scheme winds down, how can we get back to work while limiting the increase in infection rates?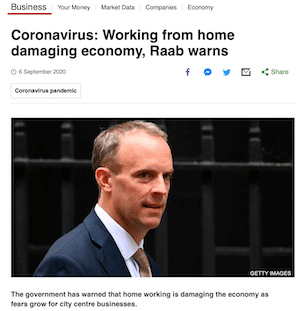 Assessing the risks
To assess and manage risks from coronavirus at work, employers must carry out a COVID-19 risk assessment.
Risks assessments are about identifying sensible measures to control risks to health or safety in the workplace.  As with COVID-19, risks cannot always be completely eliminated but do have to be reduced to the lowest reasonably practicable level.  Vulnerable groups, such as staff with pre-existing medical conditions, must be considered as part of the assessment.
Employers have a legal duty to consult with staff on health and safety, including risk assessments.  Employers should display a 'COVID-19 Secure' notice in their workplace to show that an assessment has been carried out, along with the other measures which are being taken.
Guidance on how to carry out a risk assessment, and what to consider in respect of COVID-19 in different work settings, is available online. 
Control measures
Following a risk assessment, the sensible measures to control COVID-19 infection in the work workplace can be conveniently split into 3 groups.
Physical control measures

New policies

Workplace Training
Physical control measures that you can put in place depend on your specific business but will likely include:
Floor markers to encourage social distancing

One-way systems to help keep people apart

Hand sanitiser stations

Effective ventilation

Separating people using screens or barriers

Using side-to-side or back-to-back working, rather than face-to-face

Removal of shared objects and equipment

Frequent cleaning

Clear signage

Temperature tests on entry
New policies may include:
Stay home with symptoms

Defining required personal protective equipment (PPE) in various situations

Defining where staff can and can not congregate

Managing the movements of customers, visitors or contractors

Defining hygiene requirements

Changing shift patterns

Using fixed teams or partnering to reduce the amount of contact staff have with other people

Social Distancing
Once these physical control measures and policies have been defined then staff need to comply with them, which will require effective COVID workplace training. Depending on the individual business context, this may be done online or face-to-face.
One of the benefits of online COVID workplace training, such as the COVID-19 Infection Control course we offer, is that employees can undertake it anywhere, which of course supports social distancing and can be particularly useful as part of preparations for staff to return to work sites. Online training also presents a convenient way to get a record that everyone has been training. 
One possible drawback may be that online training is often generic and doesn't include specific measures unique to your unique workplace.  In order to help with this, we can work with clients to customise their COVID workplace online training. Incorporating company branding, images and/or videos or specific measures required. If you wish to know more, contact us at [email protected].
COVID workplace training will likely include the following topics:
Symptoms of COVID-19 – reinforcing how to recognise and respond to COVID symptoms.
How to assess and manage the risks associated with COVID-19 – including how to conduct a COVID risk assessment and how to identify and support vulnerable employees.
How to prevent COVID-19, including:

Infection control and personal protective measures such as:
Personal Hygiene - including sneezing and coughing, and personal cleanliness.
Handwashing – hygienic handwashing procedures and what to do when soap and water is not available.
PPE – personal protective equipment such as face coverings, face shields and gloves – explaining why, where, when and how PPE should be worn. For example, training should detail when a face covering should be worn, how to wear it effectively, as well as how to remove it hygienically and how to dispose of it safely.
Social distancing and self-isolating – outlining the importance of maintaining social distance or self-isolating as per current government guidance, particularly anyone who has a fever, is coughing, or has other respiratory symptoms. As well as instances that may require staff to self-isolate
Effective cleaning – general good practice regarding the cleaning of surfaces and equipment will be addressed in generic online training. Organisations with specific cleaning needs might consider bespoke training.
Safe working from home and in the workplace – employers should be mindful that national guidance regarding COVID-19 is evolving all the time and they should ensure that policy and practice in the workplace reflects this through regular and clear communication with all staff.

Bespoke Workplace Training

– if an organisation has worked with the training provider to produce a bespoke course, training will include more detailed COVID policy and practice specific to the individual workplace.
Safe working, everywhere
While many businesses are preparing for employees to return to the workplace, a large number of organisations have moved, or are considering moving, their business to home working on a permanent basis. Further, many employees continue to be permitted to work from home, where this is possible.
In addition to ensuring workplaces are COVID-19 safe, employers have a legal and moral responsibility for the safety of any employees who work from home. This involves taking reasonable steps to support the physical and mental wellbeing of employees, such as providing adequate equipment or checking in regularly with home workers. Home workers should also be following COVID control measures and policy, as appropriate to their home environment, and they should have access to COVID workplace training to ensure they are keeping themselves and others safe.
It is only by working together that we can beat COVID-19.