Abrasive Wheels
£12.00
Online Abrasive Wheels course providing the essential knowledge needed to ensure employees can safely operate abrasive wheel equipment.  Taking 45 minutes a CPD-Accredited certificate is emailed on completion.


ONLINE ABRASIVE WHEELS COURSE

The Echo3 online Abrasive Wheels course helps individuals understand the hazards and best practices associated with these tools, helping to ensure safer work environments and compliance with regulations.
Nearly half of all accidents involving abrasive wheels arise because of either unsafe system of work or operator error.
Training those who operate abrasive wheels will reduce the risk of incidents and demonstrate compliance with UK Health & Safety Regulations.
This CPD-Accredited Abrasive Wheels online course is based on best practice guidance from the Health and Safety Executive (HSE).
---


The Echo3 Abrasive Wheels training is designed to equip participants with the appropriate knowledge to use and handling abrasive wheels safely.   Key learning objectives include:
Understanding Abrasive Wheels, participants gain an understanding of what abrasive wheels are, the different types available, and their applications.
Hazards and Risks, recognise the potential hazards associated with abrasive wheels, participants learn to identify risks and understand the importance of safety measures.
Legal and Regulatory Compliance, the eLearning course covers the relevant legislation, regulations, and best practices that govern the use of abrasive wheels, ensuring compliance.
Selection and Inspection, participants will learn how to choose the right abrasive wheel for specific tasks and how to inspect them for defects and damage.
Safe Handling and Operation, understanding safe handling procedures, including mounting, and dressing abrasive wheels, as well as the correct operating techniques to prevent accidents.
PPE and Control Measures, the training emphasises the importance of personal protective equipment (PPE) and control measures to mitigate risks.
CERTIFICATE & ACCREDITATION

The Echo3 Abrasive Wheels certificate is CPD-Accredited.
The certificate signifies the learners understanding of how to work safely with Abrasive Wheels.
Many employers value an Echo3 Certification as it demonstrates a commitment to workplace safety and enhancing organisational well-being.
The Echo3 Certificate will be emailed when the learner achieves 80% or more in the final 15 question multiple-choice quiz.  The Abrasive Wheels Certificate is valid for 3 years.  A posted copy is available for an additional fee.
---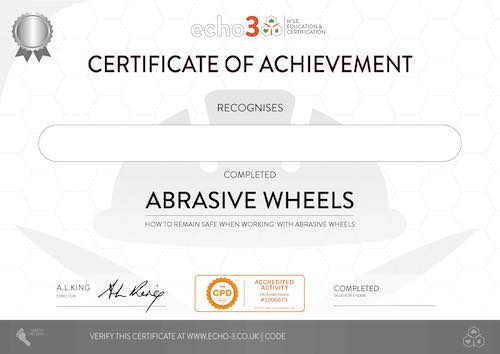 The Echo3 online Abrasive Wheels course is valuable for all those who work with or around abrasive wheels in various industries. This includes, but is not limited to:
Machine Operators, individuals directly involved in using abrasive wheels, such as grinders, cut-off saws, and sanders, should take the course to ensure they understand safe operation.
Supervisors and Managers, those overseeing work processes involving abrasive wheels can benefit from the course to improve their understanding of safety practices and effectively manage teams.
Safety Professionals, responsible for maintaining safe workplaces should take the course to enhance their expertise in abrasive wheel safety.
Maintenance Personnel, responsible for maintaining and inspecting abrasive wheel equipment should receive training to ensure proper care and functionality.
Anyone at Risk, even if not directly working with abrasive wheels, individuals who may be in the vicinity of equipment using abrasive wheels should understand the associated risks and safety measures.

UNIT 1 | Underpinning Knowledge
This first unit builds fundamental knowledge of abrasive wheels, outlining what they are and how they work. We look at the functions of the different components used with abrasive wheels, and the labelling system that helps workers select the right wheel for the job at hand. Finally, we explore the legal and moral responsibilities of employers and employees to ensure their safe operation, to avoid harm to themselves and those around them.
Specifically, we will cover:
What is an abrasive wheel?
How do abrasive wheels work?
Different types of abrasive wheel
Components of a typical pedestal grinding
Labelling abrasive wheels
Essential Law
Employer Duties
Employee Duties
UNIT 2 | Hazards & Safety Controls
In Unit 2 we focus on identifying and addressing hazards and risks of injury arising from working with abrasive wheels. This unit also explains the appropriate safety controls required to reduce the possibility of an accident occurring, including the effective workspace management.
 Specifically, we will cover:
Abrasive wheel hazards and how to identify them
How to check abrasive wheels for damage
Safety Controls – moving wheels
Safety Controls – storage
Choosing the correct wheel
Setting up the workspace
Work rests
Wheel guards and shields
Mounting the wheel
Beginning work
Truing and Dressing
PPE

Payment securely online with Stripe or Paypal.  If you wish to receive a quote or invoice please email [email protected].  Courses can be made available immediately, payment terms are 30 days.
Individuals can purchase the course above and will receive immediate access.  You can download and will be emailed your certificate on completion.  We will also store your certificate online for 3 years from the completion date.
Employers can purchase the course for one or more colleagues by using the 'Enrol others' button above.  After checkout you can email the course to colleagues and download their certificate once the course is completed. If colleagues don't have an email, we can give you an account on another platform. Email us with any administration queries ([email protected]).  We can set up a system that works for you.

Taking the Echo3 online Abrasive Wheels course offers several benefits for individuals and employers;
Risk Reduction, understanding the hazards associated with abrasive wheels and how to mitigate them is vital. The course equips individuals with the tools to identify and address potential risks, ultimately reducing workplace accidents and injuries.
Legal Compliance, completing the course ensures participants know their legal responsibilities while employers can demonstrate due diligence by retaining completion certificates.
Operational Efficiency, the knowledge gained from the course allows individuals to use abrasive wheels more efficiently, reducing waste and enhancing productivity.
Flexible Learning, the online format of the course allows participants to learn at their own pace and convenience.

Echo3's online training platform offers numerous benefits, making it a valuable choice for individuals and organisations:
Your data is safe
We never sent marketing emails.
No data ever taken other that what we need.
All users' passwords are encrypted so cannot be seen by any Echo3 staff.
We online require an email address to set up and account.
To enrol learners, we only need this name.
Data only stored only for as long as needed.
We delete learner data 3 years from the date of course completion. Data never shared with any other organisations.
Secure Payment
Online payment is handled by your choice Stripe or PayPal.  Echo3 do not see or handle any card data.  Your money sits with them.  Refunds are processed through them.
Carbon Free
Each year Echo3 pay to plant trees to offset our full business carbon usage.  Using our platform for training will help reduce your businesses carbon footprint.
Accessibility
Echo3 provides 24/7 access to a wide range of courses, allowing learners to study at their own pace and convenience.
Diverse Course Catalog
Echo3 offers a variety of courses in health and safety, compliance, and other essential fields, catering to different learning needs.
Expert Instruction
Courses are developed and delivered by subject matter experts, ensuring high-quality content and relevant knowledge.
Cost-Effective
Online learning eliminates the need for travel and physical materials, making it a cost-effective option for education and training.
CPD Certifications
Successful completion of courses often results in recognized certifications that can enhance career prospects.
Scalability
Echo3's platform is suitable for both individuals seeking personal development and employers for all sizes looking to train their workforce efficiently.
Interactive Learning
The platform often includes interactive elements, quizzes, and practical scenarios to engage and reinforce learning.
Overall, Echo3's online training platform provides accessible, diverse, and expert-driven learning opportunities that cater to the needs of individuals and organisations, fostering knowledge and skill development.
WHAT IS AN ABRASIVE WHEEL?
Abrasive wheels are used for grinding.  They vary in shape and size, and are made from compounds that have been bonded together using various substances.
Abrasive wheels are made using two main types of bonding agent: organic and inorganic.
Wheels with inorganic bonds are often used for precision grinding.
Organic bonding uses material such as resin, rubber and shellac, or other similar binding agents. Wheels with organic bonds are tough and shock resistant.  So they are most suited to non-precision applications.
WHY IS ABRASIVE WHEEL TRAINING REQUIRED?
The Provision and Use of Work Equipment Regulations (PUWER 98) came into force in 1998.
The primary objective of PUWER 98 is to ensure that work equipment, including abrasive wheels, does not give rise to risks to health and safety, regardless of the work equipment's age, condition or origin.  PUWER 98 applies to all workplaces and work situations subject to the Health and Safety at Work Act 1974.
Under PUWER, employers must conduct risk assessments to ensure that any risks are identified and minimised before commencing work.
To comply with the Regulations your employer must supply you with well-maintained, inspected, and tested tools and equipment that are safe to use and suited to the intended purpose.
Your employer must also ensure you are provided with suitable training.  Typically, this will cover:
Risks
Labels
Storage, handling, and transportation
Wheel inspection and testing
The functions of all components
How to assemble wheels correctly
How to dress abrasive wheels
How to adjust machines
The type of personal protective equipment you should wear
Your employer must also provide appropriate personal protective equipment and replace it when damaged or worn out.

If you have any questions about the Abrasive Wheels online training course, please email [email protected].