Child Protection
£9.00
Online Child Protection course taking around 60 minutes to complete at which point you or your colleagues are emailed a CPD accredited Echo3 certificate.

ONLINE CHILD PROTECTION COURSE

This online Child Protection Course from Echo3 is a comprehensive program designed to equip individuals with the knowledge, skills and understanding necessary to effectively protect and safeguard children in Scotland.
Developed in response to the growing importance of safeguarding children in an increasingly digital world, this course is essential for professionals, volunteers, and anyone concerned with the welfare of children in Scotland.
---

Participants can expect to achieve the following learning outcomes:
Understanding Child Protection Laws, gain an understanding of the legal framework related to child protection in Scotland.
Recognising Signs of Abuse and Neglect, recognise signs and indicators of child abuse, neglect, or exploitation.
Reporting Procedures, learn to navigate reporting procedures and responsibilities when concerns about a child's safety or well-being arise.
Risk Assessment, assess the level of risk to a child and make informed decisions regarding intervention.
Collaboration, know the importance of collaborating with other stakeholders involved in child protection.
Safeguarding Best Practice, develop a proactive approach to preventing harm to children through safeguarding practices and policies.

Order for yourself.  Simply click 'Purchase Course' above.  Check out securely with either Stripe or Paypal.  After purchase you will have immediate access to the course.
Order for colleagues.   Select 'I'm buying for others' above. Add the number of learners you have and checkout securely with a company card via Stripe or Papyal.  Or if you wish to receive an invoice, please email us ([email protected]).
After ordering go to 'Enrol Others'.  Add each learner's name and email.  They are automatically sent login details.  You can see and download your learners certificates.If your learners don't have email address or you have a lot of learners to enrol, please email us ([email protected]).  We can find an administration solution that works for you.

Groups of people who should take a Child Protection course in Scotland include:
Teachers and Educational Staff
Social Workers
Healthcare Professionals
Childcare Workers
Volunteers and Youth Workers
Community Leaders and Advocates
Anyone Concerned with Child Welfare
Our online Child Protection course is accredited by the CPD Group, a recognised authority in CPD accreditation.  This accreditation ensures that our training program adheres to the highest standards and provides you with the knowledge and certification necessary to excel in child protection.
Your CPD Child Protection certificate will be emailed once you have achieved 80% of more in the final assessment and a posted version is available for £9.  The Child Protection certificate is valid for 3 years.
---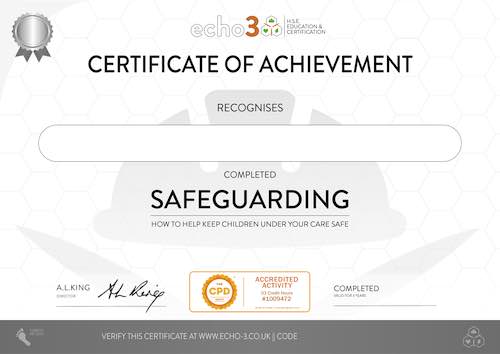 UNIT 1 | INTRODUCTION
In this first unit we explore key terminology, discuss legislation and national guidance, and explain the 4Rs of safeguarding.
UNIT 2 | RECOGNISING
In unit 2 we look at how to recognise the four main categories of abuse: physical, emotional and sexual abuse, and neglect. Recognising abuse, or the potential for abuse, is the first step in protecting a child or young person.
UNIT 3 | RESPONDING
It is important that you know how to respond appropriately should a child or young people make a disclosure of abuse. This third unit will support you with this, as well as exploring some of the reasons why a child may notfeel able to tell anyone about the abuse they are experiencing.
UNIT 4 | REPORTING
Finally we explore when and what to report, as well as who to report to.

The Echo3 online Child Protection course is a great choice for professionals and volunteers.  In addition to great value we offer.
Comprehensive Content: The Echo3 Child Protection Course typically covers a wide range of topics related to child protection, including understanding child protection laws, recognising signs of abuse, reporting procedures and intervention strategies.
Expert Instructors: Courses are written by experienced professionals in the field of child protection. This ensures that participants receive high-quality instruction and insights.
Interactive Learning: Echo3 courses often incorporate interactive learning methods.  This approach enhances the learning experience to help participants apply their knowledge effectively.
Flexibility: All Echo3 courses, including their child protection courses, are available online, providing flexibility for participants to learn at their own pace and on their own schedule.
Accreditation and Certification: Completing an Echo3 Child Protection online ourse results in a recognized certification or accreditation. This certification can be valuable for professional development and career advancement.
Reputation: Echo3 has established a reputation for providing high-quality training and educational resources in various fields, including child protection.
Carbon Negative: Meaning Echo3 offset 100% of their carbon emission.  Using our courses reduces your businesses carbon footprint.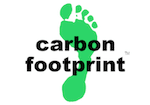 The Scottish Government is responsible for child protection in Scotland. It sets out policy, legislation and statutory guidance on how the child protection system should work.
The national approach to improving outcomes for children and young people in Scotland is Getting it right for every child (GIRFEC) (Scottish Government, 2015). This provides a framework for those working with children and their families to provide the right support at the right time.
The key guidance for anyone working with children is the National guidance for child protection in Scotland 2021 (Scottish Government, 2021). This guidance describes the responsibilities and expectations for all involved in protecting children and will support the care and protection of children.
If you work with children outside of Scotland the online Safeguarding course is more appropriate.

If you have any questions about this online Child Protection course please email [email protected].