Health and Safety For Managers
£24.00
This online training course educates the principles of Health and Safety management in compliance with regulations.
The course is ideal for anyone with responsibilities for the health or safety of colleagues.  For example, line managers and those who periodically undertake risk assessments.
Certificate emailed on successful completion.

DURATION | 45 minutes
HEALTH AND SAFETY FOR MANAGERS
This online Health and Safety for Managers course provides a practical understanding of how to keep your workplace safe.  And how to comply with current UK health and safety regulations.
The Health & Safety Act require businesses to reduce risks 'so far as is reasonably practicable'.
What actions are reasonably practicable depends on the unique hazards in your workplace.
Designed for line managers and those responsible for safety in small or low-risk businesses, this online Health and Safety training provides a common sense, balanced approach to health and safety management.
---

LEARNING OUTCOMES
Outline the purpose and benefits of HSE management
Explain legal obligations
Detail the role and how to undertake a risk assessments
Highlight the importance of continually monitoring & reviewing procedures
COURSE CONTENT
UNIT 1 |   INTRODUCTION TO HEALTH & SAFETY
We begin by introducing what health and safety (H&S) management is and why it is a good idea.  Then outline the fundamental principles of effective H&S management in the workplace.
UNIT 2 |   RISK MANAGEMENT
You need to control risks to staff and the public from your commercial activities. To achieve this, first you need to understand the risks to staff and then take appropriate steps to control them.  So, in UNIT 2 we explain sensible risk management approaches, what common workplace hazards are and how they differ from risks.
We also explain the risk assessment process, which underpins all effective safety management and relevant legislation.
UNIT 3 |   ACCIDENT PREVENTION
Most accidents are preventable by putting in place common sense prevention measures.  In this unit, we think about the potential costs of accidents, root causes of accidents and common types of accident.  This thinking helps determine the appropriate level of resource to safety measures controls.
UNIT 4 |   UK AND EUROPEAN LAW
Health & safety measures are worthwhile on moral and financial grounds.  Legislation places duties on employers and employees too. In unit 4 we explain all the key legislation relating to health & safety so you understand what is required.
UNIT 5 |   MONITORING & REVIEW
Management of health and safety is an ongoing process that will require periodic refinement as your business evolves.  In this 5th unit you will learn how efficiently monitor and review your procedures so ongoing improvement can be made.
---

---
WHO IS THIS COURSE SUITABLE FOR?
The person responsible for health and safety in small businesses or low-risk environments.
Line managers
CERTIFICATE
The Health and Safety Management training certificate is emailed on successful completion of the course.   This requires 80% or more in the final 15 question assessment.
The certificate CPD accredited certificate will be emailed on completion.
---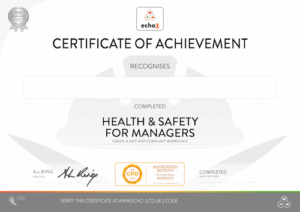 TRAINING INCLUDES
Engaging, motion-graphic training
Self-paced interactive content
Up to date with UK HSE regulations
CPD accredited certificate emailed on completion
Carbon neutral training solution

HSE MANAGEMENT COURSE FAQS
---
Is the UK a safe country to work?
UK is one of the safety places in the world to work.  In fact, through 2018/2019 the fatality rate was 0.45 per 100,000 workers.
UK 0.45 per 100,000 workers
Global average 11 per 100,000 workers
EU average being 2.8 per 100,000 workers
US average is 3.5 per 100,000 workers*
*40% of the US statistics include fatalities due to motor vehicle incidents.  In the UK, a fatal road accident while driving for work does not appear in workplace health & safety statistics.
---
What are the main safety laws?
This article provides and overview of UK health and safety laws


CONTACT
If you have any further questions about this Health and Safety Management training course online please email [email protected]