Safer Driving at Work
£18.00
Online course educates the principles of Safer Driving.  Safer Driving means knowing the latest highway code updates and driving with a mindset that anticipates hazards as opposed to reacting to them.  A verifiable, CPD-accredited certificate is email on completion.  45 minutes (approx.)

SAFER DRIVING AT WORK COURSE
This online Safer Driving at Work course provides the knowledge needed to reduce the risk of collisions, injuries and fatalities while driving for work.
In the UK, work-related driving incidents are not recorded as accident statistics by the Health & Safety Executive.  But employers still have legal and moral obligations to reduce driving risks to employees.
If you have staff who drive for work, this is likely to be the most dangerous part of their day.  However, salespeople, delivery drivers and all other small vehicle drivers at work often do not receive any formal driving training or guidance from their employers.
This online Safer Driving at Work course is an ideal way for employers to:
protect their staff (and others) by encouraging safer driving, both at work and during leisure time
safeguard their reputation
meet legal obligations
keep insurance premiums down; and
record training has been completed.
---


WHO IS THIS COURSE FOR?
This online safer driving training is suitable for anyone who drives, but in particular for people who drive cars or other small vehicles for work.  This could include:
Salespeople
Delivery Drivers
Tradespeople
Utilities staff
Carers
COURSE CONTENT
Why this course is important for you
Highway code
Introducing C.O.A.S.T
What affects concentration?
Observation exercise
Commentary drive (video)
CERTIFICATE
On successful completion learners will be emailed their certificate.
This means demonstrating an understanding of the course content by achieving 70% or more the final short assessment.   The assessment can be retaken if required.
The Safer Driving at Work certificate is valid for 3 years.
---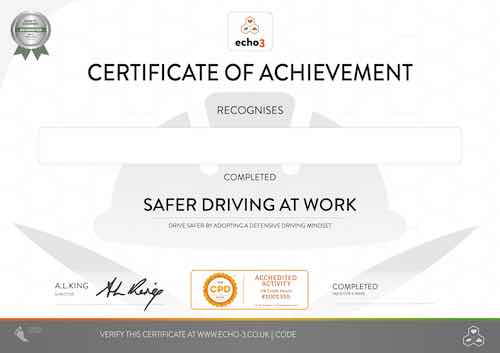 TRAINING FEATURES
Led by Vicki Lovell, award winning driver trainer
Learn anywhere with an internet connection
Verifiable, CPD-accredited certificate
Course administration and reporting dashboard
Carbon neutral training solution
SAFER DRIVING FAQs
What duty of care to employers have for staff that drive for work?
The legal duty of care employers owe to staff extends to all work activities, including driving for work.  But because driving is such as everyday activity for many of us, managing driving at work is often overlooked.
Health and Safety Executive guidance on managing work-related road safety can be viewed here. 
Driving for work involves risk, and therefore should be risk assessed.
Where risks are identified, reasonable steps must be taken to reduce these to an acceptable level.  For example, this could mean setting minimum standards for driver competence, vehicle roadworthiness and journey planning.  Suitable and sufficient driver training is a key element of any successful occupational road risk strategy.
---
How far does the duty of care extend?
Where employees travel by vehicle to and from their normal place of work, this commuting is not considered to be driving at work.  However, all other journeys – e.g., visiting customers, travelling to a different location or between sites – does count as driving for work and must be properly managed.
This expert-led Safer Driving at Work training course has been designed to help you do just that.
CONTACT
If you have any questions about this online Safer Driving for work course, please email [email protected].