Accident Investigation
£18.00
Online Accident Investigation course providing the knowledge needed to thoroughly investigate workplace incidents.  Taking around 60 minutes a CPD-accredited certificate is emailed on completion.

ONLINE ACCIDENT INVESTIGATION COURSE

Online Accident Investigation course covering best practices, legal requirements, and practical techniques, making it suitable for individuals at various levels within organisations.
Accident investigation is crucial for workplace safety and regulatory compliance.
Learning from Echo3 equips you with essential knowledge to identify root causes, prevent future incidents, and promote a safer working environment.
---

This Echo3 online Accident Investigation course aims to provide participants with an understanding of workplace accident investigation techniques. Its primary learning objectives include:
Identifying Root Causes, learn to analyse accidents systematically, identifying both immediate and underlying causes.
Preventing Recurrence, the course emphasises strategies for preventing similar incidents and implementing corrective actions.
Legal Compliance, know legal requirements and reporting obligations related to accidents in the workplace.
Effective Reporting, participants will learn how to compile accurate and informative accident reports.
Safety Culture, foster a culture of safety within organisations, by promoting proactive accident prevention.
By achieving these objectives, participants are better equipped to conduct thorough accident investigations, enhance workplace safety, and contribute to overall risk reduction.
CERTIFCATE & ACCREDITATION

The Echo3 Accident Investigation certificate is CPD accredited.
The certificate signifies knowledge in identifying root causes, mitigating risks, and helping to ensure legal compliance.
Many employers value this certification as it demonstrates a commitment to workplace safety and enhancing organisational well-being.
The Echo3 certificate will be emailed after the learner achieves 80% or more in the final 15 question multiple-choice quiz.  The certificate is valid for 3 years.  A posted copy is available for an additional fee.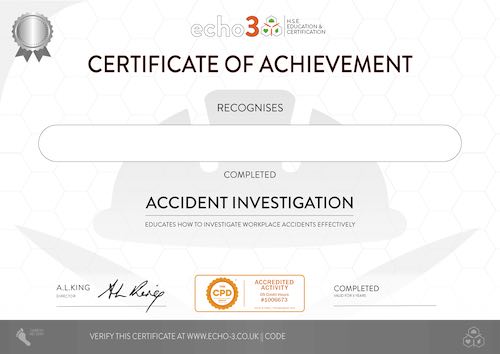 The Echo3 online accident investigation course is beneficial for a wide range of individuals across various industries.
Health and Safety Professionals: Safety officers, managers, and coordinators responsible for maintaining safe workplaces benefit from this course to sharpen their accident investigation skills.
Supervisors and Team Leaders: Those overseeing work teams can gain valuable insights into incident analysis and prevention, fostering a safer work environment.
HR and Compliance Personnel, benefit from understanding legal requirements, interview techniques and reporting obligations.
Managers and Executives, business leaders can benefit from a high-level understanding of accident investigations to make informed decisions about safety investments and culture development.
Frontline Workers, employees involved in the daily work process gain insight into identifying and reporting potential hazards and unsafe conditions, contributing to workplace safety.

UNIT 1   |  ACCIDENTS AND NEAR MISSES
This learning unit focuses on the definition of accidents and near-misses, highlighting the true cost of accidents using the 'Iceberg' and 'Bird Triangle' models.
You will learn the importance of investigating near misses to establish potential risks and hazards and enable early intervention actions which can reduce the chance of an incident in future.
UNIT 2   |  INVESTIGATION  
In this learning unit, you will learn the key skills required to undertake an effective accident investigation.  This includes developing a process plan, and identification of key data required to inform analysis of the incident
The learning unit also covers the steps to be taken at the accident site. This includes gathering witness statements, and ensuring the site is secure to avoid any further incident or harm.
UNIT 3   |  ACCIDENT CAUSATION  
Complementing the development of accident investigation skills, this learning unit builds an understanding of the various causes of accidents.  This critical knowledge will help the investigator to appropriately draw the correct conclusions on cause and inform required action beyond the superficial.
The learning unit also covers how to prepare the formal report of findings, and legal RIDDOR accident notification requirements.
UNIT 4   |  SUMMARY  
This learning unit provides an opportunity to review all course key point lessons prior to undertaking the assessment quiz.
UNIT 5   |  QUIZ

The Echo3 Accident Investigation course online offers great value, flexible, self-paced learning.  Making it accessible to professionals at all levels.  The course will take the average learner only 60 minutes to complete.
Its comprehensive content ensures that individuals from diverse backgrounds can acquire essential skills and knowledge to effectively investigate accidents, promote safety, and contribute to a culture of prevention within their organisations.
Administration support with quick friendly service.
Enrol, report and track completions
Enrol colleagues with or without emails.  Contact for details ([email protected])
Access via phone, tablet or desktop
Carbon negative training.  Help reduce your companies carbon footprint.
WHY INVESTIGATE ACCIDENTS?

Investigating workplace accidents properly will identify ways to prevent future occurrences.  These ideas and then be incorporated into updated Risk Assessmentscreating a positive safely cycle.
RIDDOR requires that some workplace injuries are reported to the Health & Safety Executive within specific timescales.  A workplace Accident Investigation will help you identify if a RIDDOR report is required.
Thorough investigations can assist in insurance claims and risk management. They provide documentation to assess liability, evaluate insurance premiums, and identify areas for improvement.
Blaming individuals for result of accidents will not get the bottom of the causes leading to safety issues.   However, proper through investigation, identifying 'why?', helps prevent future risk and damage for you, your business, and all those in your workplace.
An 'accident' can result in injury, loss or damage.
A 'near-miss' is an unplanned event that, although no injury, loss or damage occurred, has the potential to result in the same if it recurs.
The term 'incident' refers to both 'accidents' and 'near-misses'.  So saying 'all incidents should be investigated' is technically correct because both accidents & near-misses should both be investigated to identify and understand cause.
The fact that a near-miss did not result in injury, loss or damage is a matter of chance.  Best-practice is to treat all near-misses as an opportunity to prevent underlying root causes and inform safer systems of work.
If you have any questions about this online Accident Investigation training course please email [email protected].