Defensive Driving
£18.00
This online course educates the principles of Defensive Driving
Defensive driving refers to a mindset that gives drivers more time to react to other drivers.   Reducing the chance of accidents.
A verifiable, CPD-accredited certificate is email on completion.


DEFENSIVE DRIVING COURSE
This Defensive Driving course online introduces the mindset of Defensive Driving.
Defensive drivers are proactive, anticipating incidents rather than simply reacting to them.
Around 24,000 deaths and serious injuries occurred on UK roads in the year to June 2021
Employers have a duty to take appropriate steps to protect employees from injury at work.
In this online Defensive Driving training course, Vicky Lovell presents the information and takes learners through 4 commentary drives that reinforce key lessons from the course. VIEW FLIER
---



LEARNING OUTCOMES
On completion of the online Defensive Driving training course will know:
What Defensive Driving is
Why it is important
How to adopt a defensive driving mindset
How to drive safer

WHO IS THIE COURSE FOR?
This Defensive Driving course has been designed for everyone who drives.
Driving is likely the most hazardous part of your employee's working day.  Yet staff may not have undertaken any further driving instruction since passing the initial driving test.

COURSE CONTENT
What is Defensive Driving?
Why this course is important for you
Introducing C.O.A.S.T
What affects concentration?
Observation exercise
Commentary drive (video)

CERTIFICATE
On successful completion of this online Defensive Driving training learners will be emailed their certificate.
Successful complete means evidencing an understanding of the course content by achieving 70% or more in the final 15 question assessment.
The Defensive Driving certificate is valid for 3 years.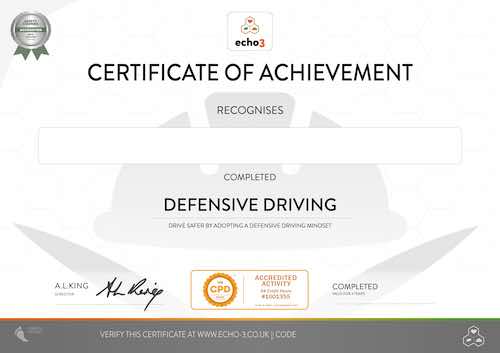 ECHO3 TRAINING FEATURES
Led by Vicki Lovell, award winning driver trainer
Learn anywhere with an internet connection
Verifiable, CPD-accredited certificate
Course administration and reporting dashboard
Carbon neutral training solution

DEFENSIVE DRIVING FAQs
---
What is a commentary drive?  
You should always 'Plan and Scan' the road ahead. Blue light drivers train by commentating on what they can observe. A commentary as you drive along – either in your head or out loud – helps to shut out any distractions and focus on the task of driving.
Try this the next time you are behind the wheel and become a more advanced driver.
---
What are the components of Defensive Driving?  
C.O.A.S.T. is a useful way to remember the components of defensive driving.
C – CONCENTRATION: e.g. focusing on driving as a task in itself
O – OBSERVATION: e.g. road signs and markings
A – ANTICIPATION: e.g. being proactive not reactive
S – SPACE: e.g. allowing enough space between other road users
T – TIME: e.g. provided by travelling with a safe following distance
---
UK workplace road accident statistics  
US & UK companies must report workplace injuries and fatalities.  In the US reports must include road-related accidents.  
Whereas in the UK employers do not need to report road-related accidents (exemption RIDDOR 14(3)).   In part this accounts for the UK workplace fatality statistics being so much lower than the US
For example, there were 3.5 fatalities per 100,000 workers in the US (2018).   In the UK the current fatality rate is just 0.45 per 100,000 workers.  But, 40% of the US figure comprises road-related deaths while travelling for work.
A lack work-related road accident reporting in the UK means potentially, not enough resource is directed towards the safety of drivers by UK employers, relative to the risk.  
CONTACT
If you have any questions about this online Defensive Driving course please email [email protected]