Van Driver Safety
£12.00
This online Van Driver Safety course provides the knowledge needed to work safely as a van driver.  A Van Driver Safety certificate is emailed on successful completion.

VAN DRIVER SAFETY
Statistically, driving is the most dangerous work activity that most people undertake.
If you drive a van for work or employ those that, you have a responsibility to ensure the van is roadworthy, never overloaded, parked safely and always driven in a safe manner.
This online Van Driver Safety course provides the knowledge van drivers need to keep themselves, the public and your business reputation safe.
A certificate is emailed on successful completion.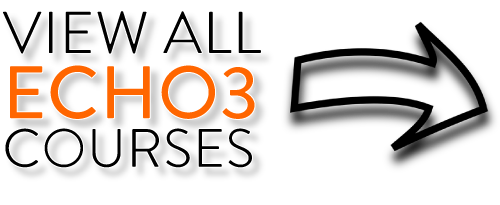 ---
COURSE OBJECTIVES
Provide employers with a solution to effectively train their van drivers.
Provide van drivers engaging training, so they know how to drive and deliver safely.
---
LEARNING OUTCOMES
On successful completion of the online Van Drivers Safety course you will know.
The laws around van driving
How to undertake pre use van checks
How to drive economically
How to drive safely
Where you can unload and park
How to deliver goods safely
What good customer service means
---
VAN SAFETY CERTIFICATE
At the end of the online Van Driver training course is a multiple-choice assessment.
Where learners demonstrate their understanding of course content by achieving a minimum score of 80%, a completion certificate is issued by email.
If a learner scores less than 80%, they can then revisit any part of the course and are offered the opportunity to retake the quiz until they are successful.
A Van Safety certificate is then emailed to your account for retention within your training records.
---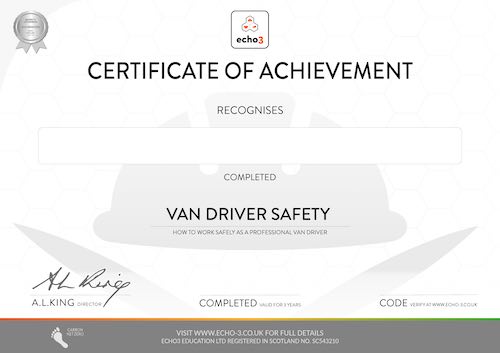 ---
COURSE CONTENT
UNIT 1 – The Law
In the first learning unit we cover your legal responsibilities.  To yourself, employer, and the public.
UNIT 2 – Vehicle Pre-Use Checks
In this second learning unit, we will demonstrate how to correctly carry out 'pre-use checks', discuss which parts of the vehicle need to be checked and explain what you need to look out for when checking.
UNIT 3 – Driving Best-Practice Behaviours
In this third unit we detail how to be an excellent driver.  This means driving in a way that anticipates hazards, so the driver has plenty of time to react to any dangers.  It also means understanding the latest rules.  For example, leave at least 5ft or 1.5metres of space when passing cyclists.
UNIT 4 – Delivery Best-Practice Behaviours
In this fourth unit we cover how to deliver goods professional.  This means unloading in the right places.  Demonstrating good customer service and care for the employer's reputation.  For example you will learn the difference between Red Routes and Clearways.
UNIT 5 – Assessment
---
PLATFORM INCLUDES
Ability to administer training. Enrol others, even if they don't have an email.  Contact us of details.
Carbon negative training platform
Engaging content
VAN SAFETY FAQS
How do employers' benefit from providing van safety driving training?
Van Safety training benefits employers' through
Helps to meet duty of care responsibilities.
Reduced incidents
Less downtime
Reduced fuel usage
Increased productivity
Improved van resale value
Reduced running and maintenance costs
Positive environmental impact
---
How many vans are on UK roads?
There are around 4.1 million vans in use on Britain's roads, driving a staggering 50 billion miles a year and making up 16% of all vehicular traffic.  However, vans account for less than 1% of road accidents.  So relatively speaking vans are safely driven.
---
How can vans be driven to save fuel?
You can drive economically by adopting these 8 tips.
Correctly inflated tyres offer less resistance on the road, increasing fuel economy and improving handling.
Don't drive too fast.Fuel costs increase the faster you drive, so keep speeds reasonable.
Smooth braking will save fuel & reduce stress on you, the vehicle & your load.
 Using the engine to brake provides a smooth reduction in speed, and saves fuel.
Use the handbrake for hill starts
Don't idle your engine is stopped for more than 1 minute
---
CONTACT
If you have any questions about this Van Driver Safety course online please email us at [email protected].