Laboratory Safety
£12.00
Online Laboratory Safety course providing essential learning on current regulations and best-practice guidelines to ensure the safety of yourself other Lab workers.

Duration | 40 mins (approx.)
LABORATORY SAFETY

Online Laboratory Safety training course introducing personnel to the essentials of lab safety, from identifying common risks to addressing chemical, biological and physical hazards.
Using a clear and structured approach to promote effective learning, this course is ideal for all lab staff as well as those responsible for supervising or managing others who undertake laboratory work.
Offering a verifiable, CPD-accredited certificate on completion, this fully online course provides the knowledge needed to work and stay safe in a laboratory setting. The certificate also provides key evidence of training for retention in your safety records.
---

The Echo3 online lab safety course aims to equip participants with comprehensive knowledge and practical skills to ensure a safe laboratory environment.
Key objectives include.
Understanding chemical hazards.
Identify and mitigate physical hazards.
Implementing proper storage and handling procedures.
Mastering emergency response protocols.
Adhering to regulations.
Employ personal protective equipment effectively.
Generally, foster a culture of safety within the lab.
WHO SHOULD TAKE THIS COURSE?

This Laboratory Safety course is aimed at any individuals who work in roles that may require them to enter or oversee a laboratory environment.
This includes managers and supervisors responsible for others undertaking laboratory work, all technical and domestic/cleaning staff, and any visiting contractors who require to access a laboratory.

UNIT 1 |   Laboratory Regulations
In this first learning unit, we begin by highlighting the duties and responsibilities of employers and employees who work in and operate laboratories.
UNIT 2 |   General Safety  
The second learning unit explores the range of safety considerations that arise within a laboratory, focussing on the universal precautions required to ensure safe working.
This includes issues such as:
Safe handling of glass equipment; Safe handling of chemicals; Essential good housekeeping procedures; Fire precautions; Preventing slips, trips, and falls; Safe cleaning of spills; The importance and use of PPE.
UNIT 3 |   Mitigation  
In our final learning unit, we explain what to do in the event of accident, and actions to be taken should an incident occur.
CERTIFICATE & ACCREDITATION
At the end of this Laboratory Safety course is a short online assessment aimed at reinforcing and testing individual learning.
Where the learner demonstrates their understanding of course content by achieving a minimum score of 80%, a completion certificate is issued by email.
If the score is less than 80%, learners are offered the opportunity to revisit any part of the course and retake the quiz until successful.
The verifiable, CPD-Accredited certificate is then emailed to your account for retention within your training records.
A posted certificate is available for £9.
The Lab Safety certificate is valid for 3 years.
---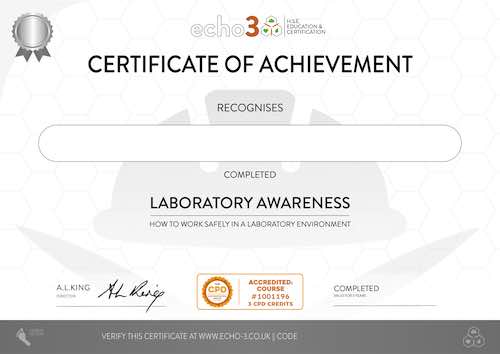 Participating in Echo3's online lab safety training course offers numerous advantages.
Firstly, it provides the flexibility of remote learning, accommodating diverse schedules and allowing participants to study at their own pace.
The course employs engaging multimedia content, to enhance comprehension and retention of crucial safety principles.
Learners gain knowledge of chemical and physical hazards, emergency response protocols, and regulatory compliance, fostering a safer laboratory environment.
Additionally, the online format allows for cost-effective training without the need for travel expenses.  The Echo3 platform is carbon-negative too.
Overall, Echo3's online lab safety training course ensures a convenient, thorough, and accessible means for individuals to acquire essential skills, enhancing workplace safety and reducing risks in laboratory settings.
Everyone in your organisation who works within a lab environment must understand the wide variety hazards present, for example from exposure to biological agents, to the dangers presented by flammable gasses & sharp objects.
While every lab environment is different, common rules that ensure the protection and wellbeing of all apply. This online Laboratory Safety course builds an understanding by anyone working within a laboratory of the best practice principles underpinning safe working.
This Lab Safety course also provides the knowledge needed to work safely in line with current regulations. Taking a practical approach to learning, the training helps meet your obligation to ensure individuals understand their responsibilities under UK health & safety law, including key legislation such as COSH
Several regulations underpin the legal duties associated with working within a laboratory environment.
These include:
Health and Safety at Work Act 1974 (HSWA).   
The HSWA requires employers to ensure the health and safety of everyone affected by their work.  All reasonably practicable efforts must be taken.  This means balancing the level of risk against the measures needed to control the risk in terms of money, time or trouble.
The Management of Health & Safety at Work Regulations 1999.
The Management Regulations were introduced to reinforce the HSWA, building upon it to include a specific duty on employers to assess risks (including Laboratory safety risks) and take action where necessary.  This includes the requirement to provide training to staff so they are aware of relevant hazards.
The Control of Substances Hazardous to Health Regulations 2002 (COSHH).
The COSHH Regulations provide a framework to help protect people in the workplace against health risks from hazardous substances.
In addition to the general requirements of COSHH, laboratories with biological agents have additional provisions under Schedule 3 of the regulations that must be met.
For further information, please follow the link below to view UK Health & Safety Executive (HSE) guidance on laboratory safety: http://www.hse.gov.uk/biosafety/laboratories.htm

If you have any questions about this online Laboratory Safety training course please email [email protected].