Scaffold Safety
£18.00
Online Scaffolding Safety awareness course providing the knowledge needed to work safely on scaffolding.  Duration 50 minutes, CPD-Accredited and valid for 3 years.

SCAFFOLDING SAFETY

Online Scaffolding Safety Awareness course crucial for anyone involved in construction or related industries.  This training provides essential knowledge on essential safety protocols, minimising the risk of accidents and injuries.
A 2020 report by the NASC found 1 in every 230 scaffolding workers (74 incidents in total) suffered an injury on scaffolding in 2019.  A 'significant improvement' on the previous year, when 1 in 150 workers suffered an injury.  Most injuries (21%) were caused by Slips, Trips and Falls.
Working at Height regulations, place a duty upon employers to ensure staff are competent.  Meaning employees must receive appropriate training.
Scaffold Safety certification from Echo3 improves individual competence and helps employers meet legal and workplace requirements.
---

The Echo3 online scaffolding safety awareness course aims to equip participants with the knowledge needed to ensure a safe working environment.
Course objectives include.
Understanding the principles of scaffold erection, dismantling, and inspection.
Emphasising compliance with safety regulations and industry standards.
Participants will learn to identify potential hazards associated with scaffolding, adopting preventive measures and emergency response protocols.
The Scaffold Safety course emphasises proper use of personal protective equipment (PPE).
Through 3D models' learners gain the ability to recognise different types of scaffolds and their components.
Successful completion of the course leads to CPD-certification, validating participants' ability to contribute to a safer construction site by applying best practices in scaffolding safety.
Overall, the Scaffolding Awareness course aims to enhance awareness, promote adherence to safety protocols, and reduce the risk of accidents and injuries in the construction industry.

This online Scaffolding Safety course has been designed for all those working on scaffolding.  It is also beneficial for those managing or supervising sites where scaffolding is present.
Anyone involved in construction or related industries, including workers, supervisors, and managers, should take this online scaffolding safety awareness course.
This course is essential for individuals who work with or around scaffolding, as it provides crucial knowledge on safe assembly, usage, and inspection.
By targeting a broad audience, the course ensures that all personnel involved in construction activities understand and adhere to safety regulations, minimising the risk of accidents and promoting a secure work environment.
On successful completion of the online Scaffold Safety course a CPD-accredited certificate will be emailed.
Successful completion requires the learner to demonstrate a good understanding of the manual handling course content by achieving 80% or more in the final assessment.
The assessment is a 15 question, multiple-choice quiz.  The quiz can be retaken if required.
The Scaffolding Awareness certificate is valid for 3 years and a posted version can be ordered separately.
---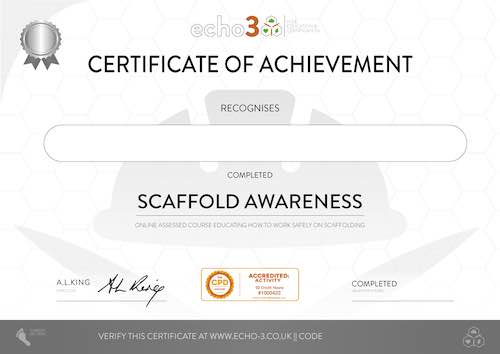 UNIT 1  |   Introduction
In this first unit you will develop your understanding of why scaffolding safety awareness is important. We will also explore different types of scaffolding and their key components.
UNIT 2  |   Scaffolding hazards and risk reduction
In this second unit we highlight the hazards involved in working on scaffolding and the associated safety measures that help keep you and your colleagues safe.
UNIT 3  |   Scaffolding roles and responsibilities  
In this third and final unit we look at the safety responsibilities of key personnel. Some of these roles involve working with scaffolding directly, other positions hold a more general responsibility for safety on site.
By working together and following best practice, risks can be minimised, and scaffolding work made safe.
UNIT 4  |   Quiz

The Echo3 online Scaffold Safety Awareness course offers key benefits by providing a comprehensive understanding of scaffolding hazards, safety protocols, and regulatory compliance.
Firstly, a well-trained workforce contributes to a safer work environment, ensuring compliance with industry standards and enhancing overall organisational efficiency and reputation.
Echo3 courses are CPD accredited, evidencing quality and compliance with the latest regulations.
Administration is simple and can be tailored to suit your own businesses requirements.
Payment can be made securely online via Stripe or PayPal.  Alternatively, you can email us to receive a quote or invoice.
The Echo3 platform is cost-effective and carbon negative.


You can pay securely by card via PayPal or Stripe.  At which point you can immediately access the course of email the course to colleagues.
If you have many learners requiring multiple courses, we can a tailor administration setting to your requirements.  For example, if your colleagues do not have email addresses that is no problem.   Simply email us with your requirements [email protected].  We will quickly follow up with suggestions and a quote.
What is scaffolding and why is it used?
A scaffold is a temporary structure used to support workers, materials and equipment while performing tasks at height above the ground.
Scaffolding is usually a linked system of metal tubes, although it can be made from other materials, for example wood.
Scaffolding should provide safe access for workers to normally inaccessible places.
When assessing a task, consider if there are safer and reasonably practical alternatives ways to complete the task, that don't require scaffolding.  
Why is scaffolding safety training important?
In 2019 there was a 27% rise in the number of scaffolding incidents, from 89 in 2017 to 113 in 2018. The resulting injuries are often serious and include.
Traumatic brain injury
Spinal cord injuries and paralysis
Internal organ injury
Fractures and broken bones
And Severe lacerations or deep cuts
The leading cause of these injuries is Human error. Scaffold Awareness training, like this, helps to reduce the chance of human error.  This, in turn, helps to create a safer workplace for you and your colleagues.
CREATING SAFE SCAFFOLDING
Safe work practices begin when the scaffold is getting built. Consideration must be given to protecting employees working near the structure, as well as the public.
The structure must be protected from being struck by vehicles or machinery.  So, barriers and signage should be used to prevent people and vehicles encroaching upon the scaffold area.
Before you work on any type of scaffold, there are a range of environmental hazards to consider that are associated with scaffolding.   These are:
ground conditions
the presence of nearby power lines
traffic
and chemical or hazardous substances
All risks should be identified, and risk assessed.
More comprehensive information about safe scaffolding considerations can be found on the Health & Safety Executive website.

If you have any questions about this online Scaffolding Awareness training course, please email [email protected].