Electrical Safety
£15.00
Created for everyone who works around electricity, this online course educates the risks of electricity and highlights the best-practice to keep you and colleagues safe.  Certificate emailed on completion.
---

DURATION | 60 minutes
ELECTRICAL SAFETY
This online Electrical Safety training provides learners with an understanding of how to work safely around electricity.
The most widely available form of energy, we can become complacent around electricity.  But the same power that makes life easier is dangerous and occasionally even fatal.
Familiarity with electricity often means we fail to recognise it as a hazard. Often we can take electricity for granted and forget the dangers it brings. Many accidents in the workplace involve electricity and the misuse of electricity is a major cause of fires in the home and workplace
Electricity at Work 1989 regulations required employers to do everything 'reasonably practicable' to protect people from harm.  This short online course is designed to provide the knowledge you and your colleagues need to work safely around electricity.
---


LEARNING OUTCOMES
On completion of the Electrical Safety course online learners will know;
To recognise electricity as a hazard and increase awareness of associated risks
To promote a basic understanding of how electricity works
To highlight sensible behaviour when using electrical equipment
To provide guidelines on how to deal with an electrical related accident
---
COURSE CONTENT
Each topic listed below is covered by a short 1 to 3 minutes video that can be replayed or skipped depending on understanding.
UNIT 1 | DANGERS
The Health and Safety at Work Act (1974)

Electrical Danger Example

Danger of Appliances

Voltage

Electrical Hazards

Respect Electricity
UNIT 2 | ELECTRICITY EXPLAINED
Atoms

What is Electricity?

Types of Electricity

Current electricity

What is a Circuit?

Electricity and the Ground

Conductors and Insulators

Human Conductors

Indirect Exposure
UNIT 3 | ELECTRICAL SAFETY
Basic Electricity Safety

Visual Inspection

Danger Signs

Faulty Equipment

How is Electricity measured?

Fuses

Electrical Load

Multi-point Adaptors

Cables & Multi-Adaptors

Safe Use of Appliances

What to Do if an Appliance Catches Fire

General Electrical Safety

Lightning
UNIT 4 | EMERGENCIES
Electrical Injuries

Electrical Accidents

Separate the Source

Remove the Source

Treating Injuries

Prevent Shock

Electrical Burns

High Voltage Accident

Vehicle and Power Lines
---

IDEAL FOR
The Electrical Safety Awareness course has been designed for everyone who works in the proximity of electricity or is responsible for maintaining a safety of a workplace.  Specific job functions that this course is appropriate for include;
Construction workers
Tradespeople
Mechanics
---
ONLINE ELECTRICAL SAFETY
Why take the online Electrical Safety training course?  Electricity can kill or seriously injure either, directly or indirectly.  It is therefore to manage the risks of electricity.  In addition to increasing awareness of the risks.  This electrical safety course also explains simple precautions to take when working with electricity.  Therefore, reducing risks to you and colleagues.
Further information about electrical safety at work can be found here: http://www.hse.gov.uk/electricity/
---
CERTIFICATE
At the end of the online Electrical Safety Training there is a 15-question, multiple-choice quiz.  If learners demonstrate their understanding of the course content by achieving a minimum score of 80%, we email the course certificate.  If learners score less than 80%, they can revisit any part of the course and retake the quiz until successful.
The quiz can be retaken as often as required and the Electrical Safety certificate is valid for 2 years.  A posted certificate is available separately.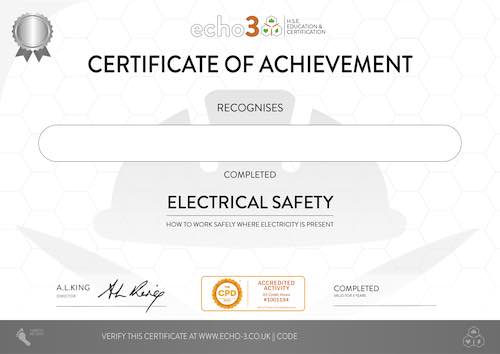 ---
INCLUDES
CPD-accredited
Access on phones, tablets and desktop computers
Learner anywhere with an internet connection
Emailed certificate
Zero Carbon product
---
WHAT ARE ELECTRICAL HAZARDS?
Fires – The misuse of electricity is a major cause of fires in the home and workplace.
This is particularly true when the equipment produces heat (e.g. heaters, ovens, kettles, hair dryers, heat-seal packaging equipment, etc.). Many fires are caused by faulty appliances and damaged cables and connections.
Electric burns – If electricity comes into contact with the skin or passes through the body, it can cause burns. Burns can be categorised as first, second or third degree, depending on how badly the skin is damaged. Electric burns can also potentially damage internal organs.
Electric shock – Electric shock occurs when an electric current passes through the body. Electric shock can range from experiencing a slight tingling sensation to cardiac arrest. Shocks from electrical equipment can also lead to indirect injuries such as head injuries and fractures, due to falls from ladders or other work platforms
---
BASIC ELECTRICAL SAFETY TIPS
Make sure staff understand how to use the electrical equipment properly
Have enough sockets are available.
Ensure sockets are not overloaded
Clear any trailing cables
Switch off and unplug appliances before cleaning or adjusting them
Stop using equipment that appears to be faulty
---

CONTACT
If you have any questions please email [email protected] or call us on 0131 6618253