Banksman
£12.00
Online Banksman course for everyone working as a banksman or vehicle marshal.  Supports compliance with the Health & Safety (Signs and Signals) Regulations 1996 and construction guidance HSG150.  40 mins (approx).  Certificate valid for 3 years
ONLINE BANKSMAN TRAINING

Online Banksman training course provides the knowledge needed to undertake the role of a Bankman safely.
A vehicle banksman, also known as a traffic marshal, is a trained and competent person whose primary duty is to maintain the safe flow of traffic in the workplace.
Typically, this requires being the eyes and ears of vehicle and machine operators and providing reversing or load-manoeuvring instructions.
A Banksman will usually be used in workplaces where pedestrians and vehicles cannot be completely separated through engineered controls.
To perform their duties safety banksman must receive appropriate training. This online Banksman course provides the knowledge needed to perform the duties of a Vehicle Banksman safety and develop their competence.
---

An online Banksman course or Vehicle Marshal course aims to impart comprehensive knowledge for safely directing and guiding vehicle movement on construction sites or any workplace setting.
Specifically, the Banksman training objectives include:
Legal responsibilities and regulations governing vehicle marshalling.
Know the importance of risk assessments and what a safe traffic environment looks like.
Enhance understanding of potential hazards and risks associated with vehicle operations.
Instruct proper signaling and communication techniques and help develop competency in using hand signals.
Emphasise the importance of clear and effective communication between Banksman and drivers.
Generally, instil best practices for minimising accidents, optimising site safety, and fostering a culture of vigilance and cooperation among workers.
Successful completion ensures participants can proficiently manage vehicle movement, mitigating risks and promoting a safer work environment.

This Banksman course is for everyone undertakes the duties of a Banksman or Vehicle Marshal in the workplace or supervise those that do.
Those working in construction, industrial, or logistical settings, especially site supervisors, drivers, and ground operatives.  should consider an online vehicle Banksman course.
It's necessary for anyone involved in manoeuvring vehicles in the workplace, as well as those responsible for site safety.
Newcomers, experienced workers needing a refresher, or individuals seeking to enhance their understanding of safe vehicle operations will also benefit significantly.

UNIT 1 | ROLE OF A BANKSMAN
In this first unit, in addition to outlining the various possible responsibilities of a banksman in the workplace and detailing relevant legislation, we also highlight the risks associated with moving vehicles, not least to banksman themselves – if due care is not taken.
UNIT 2 | CREATE A SAFE BANKSMAN ENVIRONMENT
In the second unit we focus on the conditions required to create a safe working environment for banksmen.  As a banksman, your working environment must be made as safe as reasonably practicable by your employer.
This requires thought, planning and a continued cycle of feedback and improvement.  On completion of this unit you will understand how as a banksman you can help maintain the safest working environment.
UNIT 3 | BANKSMAN SIGNALS
In this final unit we outline the universally recognised banksman signals.
At the end of the online Banksman course the is a 15 question, multiple choice quiz.
When learners demonstrate their understanding of the Vehicle Marshal training content by achieving a minimum score of 80%, we'll email them their completion certificate.
If learners score less than 80%, they can revisit any part of the course and retake the quiz until they are successful.  A posted certificate is available for £9.
---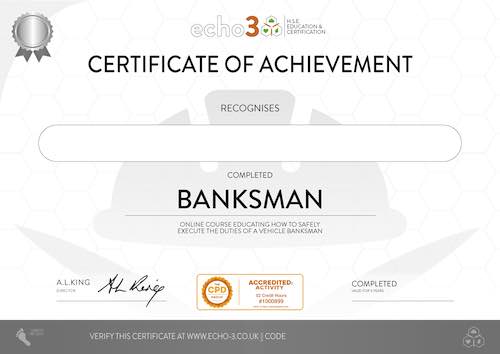 The Echo3 online learning platform offers several advantages for Banksman training.
Its interactive modules enable immersive learning through engaging video content enhancing practical understanding.
The platform's user-friendly interface ensures accessibility across devices, facilitating convenience for learners to access materials anytime, anywhere with an internet connection.
Echo3's robust tracking and assessment tools allow for progress monitoring.
The platform offers great value accredited training.
All training done through Echo3 is carbon negative so your business can reduce its carbon footprint by using our platform.

A vehicle banksman, also known as a traffic marshal, is a trained and competent person whose role is to reduce the chance of accidents from moving vehicles.  Banksman will normally be positioned to have an unrestricted view of both the load and the vehicle operator, so they are able to give safe manoeuvring instructions to the drivers of the vehicles and heavy machinery.
Effectively a banksman serves as the eyes and ears of vehicle drivers to ensure vehicle manoeuvres are done safely and don't put anyone in danger.
The banksman will communicate with the driver via radio and/or pre-arranged signals, to inform the driver what is going on around the vehicle. A vehicle banksman will often undertake other duties, such as directing traffic in and around the site.
The specific duties of a bandsman will differ from business to business, depending on the hazards.  The role of a Banksman is to manage the safe flow of traffic, particularly when vehicles are reversing.  Duties often also include;
Understanding risks and hazards, and managing these effectively
Directing the movement of vehicles in and around the workplace
Keeping vehicles and people apart
Recommending and laying out safe, on-site traffic systems
Managing traffic to avoid excessive queuing
Providing clear, correct and safe directions to plant operators
Communicating with drivers and plant operators verbally and by radio/or industry standard hand signals
Minimising risks to personnel and equipment
Always Remaining calm and alert

Consider UK RIDDOR statistics. For the latest reporting period (RIDDOR statistics 2022/23) unfortunately workplace fatalities from moving vehicles led to 20 deaths.  This is 19% of all workplace fatalities.  In addition 1 in 50 reportable injuries were caused by people being hit my moving vehicles.
So, if you manage safety in your workplace it is vital to take the hazard of moving vehicles seriously by giving thought to how pedestrians can best be kept safe.
First try to completely remove pedestrians from the flow of traffic through engineering.  Obviously, this is not always possible.  So, then a Banksman may well be an effective way to reduce the risks.  In which case Banksmen must be appropriately trained.  Remember you should also have evidence that training has taken place [to comply with the Managing Health & Safety regulations 1999.
This training is also beneficial the site health & safety managers or supervisors who may not use a banksman but wish to understand ways to reduce risks from moving vehicles in the workplace.
The Health and Safety (Signs and Signals) Regulations 1996 details the universal signals that banksman should use.  By having a universal system drivers that are new to your workplace will still understand the instructions of your banksman.
The regulation also details when signs should be used in your workplace and how they should appear.  Basically, the same traffic signs should be used in workplaces as are used on public roads and used in the same way.  For example, kept clean, visible and at a sensible frequency so as not to confuse or distract drivers.
This legislation was designed to give parity across the EU as part of our EU membership so post-Brexit we may diverge from these regulations in the future.
In addition to the Banksman course your staff may also benefit from.
Van Safety – how to drive and delivery goods safely.
Defensive Driving – how to adopt a proactive mindset.
Dangerous Goods – how to transport Dangerous Goods by road, air, and sea.
Winter Driving – how to drive safely in winter conditions.