Fire Marshal
£30.00
Fully online training for everyone undertaking the duties of a fire marshal or fire warden.
Fire Marshals have an important role to reduce the risk of fires in the workplace.
This course provides the knowledge needed to undertake those duties effectively.
60 mins (approx.)
Certificate valid for 3 years


FIRE MARSHAL
This Fire Marshal training online develops the competence to be a fire marshal or fire warden.
Employers or landlords have overall responsibility for fire safety.  Following the Fire Risk Assessment, most organisations find delegating day-to-day fire safety responsibilities to competent people known as Fire Marshals helps to reduce risk.
Designed for all staff delegated with fire safety responsibility this online Fire Marshal course includes a verifiable CPD-accredited certificate and lasts approximately 90 minutes.
---



WHO SHOUDL TAKE THIS COURSE
This online Fire Marshal training course is for everyone undertaking the duties of a fire marshal or fire warden.

LEARNING OUTCOMES
On completion of this Fire Marshal training online learners will know:
Fire safety regulations
How fires start in the workplace
Common steps that help prevent fires
The responsibilities of a Fire marshal
Importance of fire risk assessments
Actions to take in the event of a fire
If, when and how to fight a fire
Emergency fire first aid
FIRE MARSHAL COURSE CONTENT
UNIT 1  |    REGULATIONS
Firstly, we outline the legal landscape, including differences between the home nations.  We also highlight the specific duties upon both employers and employees.
UNIT 2  |    HOW FIRES START AND WHY
In UNIT 2 we explore how a fire starts and is sustained. This information is important in understanding how to prevent fires from starting in the first place, as well as what can be done in the unlikely event that you have to tackle a fire.
UNIT 3  |    FIRE PREVENTION
It is vital that a pro-active approach to fire safety is taken to minimise the likelihood of a fire starting in the first place. An essential component of fire prevention is identifying and assessing any potential risks and putting measures in place to reduce these risks. This Unit looks at fire risk assessments in more detail.
UNIT 4  |    FIRE MARSHALS & THEIR EMERGENCY RESPONSE
In addition to day-to-day fire prevention duties, fire marshals have the potentially life-saving responsibility to oversee emergency response in the case of a fire breaking out. In this unit we look at general emergency evacuation procedures, as well as identifying specific Fire Marshal duties.
UNIT 5  |    IF, WHEN AND HOW TO FIGHT A FIRE
In this UNIT, we look at the information you need for fighting fires. But please remember, you should only fight fires if you've been trained to do so, and if the fire is still in the early stages.
UNIT 6  |    EMERGENCY FIRST AID
It is useful for Fire Marshals to know how to treat a minor burn, so this is the focus of this final short unit.  Your organisation may have also appointed First Aiders whose role is to assist in the treatment of injuries or illness during an emergency situation, whilst waiting for the emergency services to arrive.
CERTIFICATE
At the end of the online Fire Marshal training there is a, multiple-choice assessment.  If learners demonstrate their understanding of course content by achieving a minimum score of 80%, we'll email the completion certificate.
If learners score less than 80%, they can revisit any part of the course and retake the quiz until they are successful.  A posted certificate is available for £6.
The Fire Marshal certificate is valid for 3 years.
---

INCLUDES
Memorable motion-graphic content
Learn anywhere with an internet connection
Verifiable, CPD-accredited certificate
Emailed certificate
Carbon neutral training solution
FIRE MARSHAL FAQs
What is a fire marshal or Fire Warden?
Fire safety regulations require 'competent people' to assist the person who has overall responsibility for fire safety in carrying out fire safety measures.
These 'competent people' include fire marshals or fire wardens.
Often there is no difference between the role and responsibilities of a fire marshal and fire warden. These are simply two different terms for the same thing.
Occasionally, larger organisations appoint both fire marshals and fire wardens. This is a choice of the individual business rather than a requirement under the regulations. In this case, fire wardens tend to have a pro-active fire safety role, taking responsibility for day-to-day fire management duties such as spot checks and fire risk assessments, and fire marshals will have a more re-active fire safety role, with responsibility for emergency response in the case of a fire in the workplace.
---
What are the duties of a fire marshal?
The responsible person has legal duties to:
carry out a fire risk assessment of the premises and review it regularly
tell staff or their representatives about the risks they have identified
put in place, and maintain, appropriate fire safety measures
plan for an emergency
provide staff information, fire safety instruction and training
The main role of a fire marshal is helping the 'responsible person' in meeting these duties and preventing fires occurring.
Specific Fire Marshal duties will be outlined by individual organisations.
---
When is a fire marshal required?
Regulations require all organisation to have 'sufficient number' of competent people to assist with fire safety duties.  Therefore, it will be your fire risk assessment that will determine if your organisation requires a fire marshal.
---
What are the most common causes of workplace fires?
There are around 22,000 workplace fires in the UK each year.  The most common cause of these fires, around 25% is due to electrical failures.  For example, misused or ill maintained equipment.
---
What are the different types of fire extinguisher?
There are 5 common types of fire extinguisher found in the workplace, sited according to risk.  Dry Powder, Hose, Foam Spray, Water and CO2.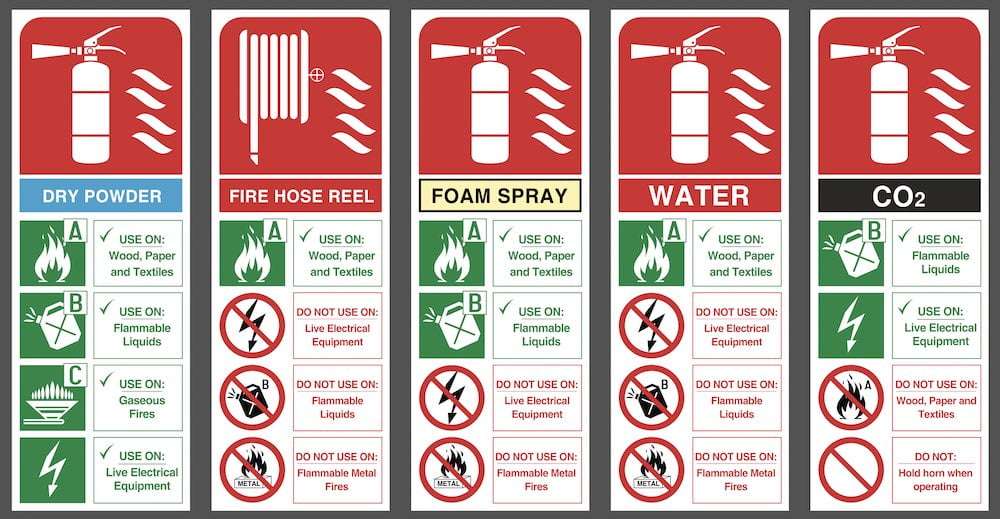 ---
What are the fire safety regulations?
Fire regulations differ slightly across the home nations, but the duties listed above remain consistent.  See below for links to specific legislation.


CONTACT
If you have any questions about this Fire Marshal training online please email [email protected] or call us on 0131 6618253