Office Safety
£12.00
Online Office Safety course for all staff to understand and mitigate potential workplace hazards, ensuring a safer and healthier working environment for oneself and others.  30 minutes, certificate valid for 3 years.

OFFICE SAFETY
Online Office safety course to equip participants with comprehensive knowledge and skills to identify, prevent, and address potential hazards within office environments.
Employers have moral, legal and financial duties to provide staff with an awareness of these risks.
In a clear and engaging way, this 30-minute online office safety course helps employees understand the responsibility they have for the safety of themselves, their colleagues, and your businesses reputation.
---

Course objectives include:
Risk Awareness.  Participants will know office hazards, such as ergonomic, electrical risks, fire, and trip hazards.
Preventive Measures.  Teach proactive strategies and preventive measures to minimise risks, including proper workstation ergonomics, fire safety protocols, and emergency response procedures.
Legislation.  Ensure participants understand their legal responsibilities.
Safety Culture.  Help create a safety-conscious mindset among employees, encouraging them to actively contribute to maintaining a safe work environment and promote a collective responsibility for safety.
Response and Reporting.  Educate on proper responses to emergencies, as well as the reporting and documentation processes for incidents or near-misses.

UNIT 1. |  INTRODUCTION TO HEALTH & SAFETY
We begin with explaining why businesses must manage health and safety at work.  Then detail employer and employee responsibilities.  Following this we outline common arrangements for managing safety.
UNIT 2. |  WORKING SAFELY IN AN OFFICE
This unit begins by explaining risks assessments.  After this we outline how staff can work safety amongst common office hazards.  Specifically, Risk assessments Fire safety, First Aid, Accident Reporting, Slips, trips and falls, Electrical safety, Work-related stress, Display screen equipment, Manual Handling.  Other office hazards.

All office personnel, including employees, managers, and support staff, will benefit from the Echo3 online office safety course.  They will gain a clear understanding of office safety protocols to help create a secure work environment.
At the end of the online Office Safety course there is a 10 question, multiple-choice quiz.  If learners demonstrate their understanding of course content by achieving a minimum score of 80%, we'll email them their completion certificate.
If learners score less than 80%, they can revisit any part of the course and retake the quiz until they are successful. A posted certificate is available for £9.
The Office Safety certificate is valid for 3 years.
---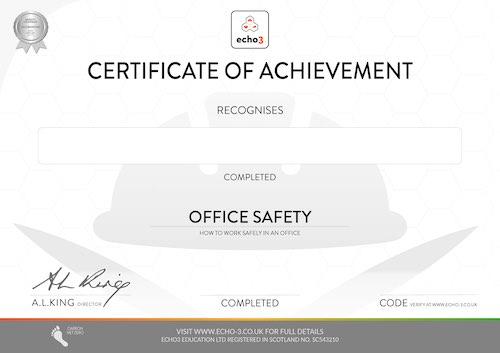 Protecting the health and wellbeing of workers is the most important reason.  Furthermore, there are other strong moral, financial and legal reasons too.
Modern society doesn't accept that people should suffer injury or ill-health because of their work yet workplace injuries and ill-health still cost the UK economy around £15 billion a year.  So consider the costs involved if someone at your work has an accident….
Further, management of health and safety at work has the force of law.  Both employers and individuals can be prosecuted under criminal law.  And sued for compensation under civil law, if something goes wrong.
There are several ways to fulfil legal requirements.  Employers must make staff aware of the risks and how they are controlled.
So firstly, a responsible person must identify the risks.  If you employ 5 or more staff, you must document this step known as a Risk Assessment.  You may use our Office Risk Assessment template to help you with this if you wish.  It is a simple form the aid thinking and record findings.  (DOWNLOAD).
Once you have assessed the risk you will see that some risks can be reduced through awareness training.
So, this online Office Safety course provides staff with this awareness.  And, where appropriate, encourages them to seek specific information relevant to their place of work.